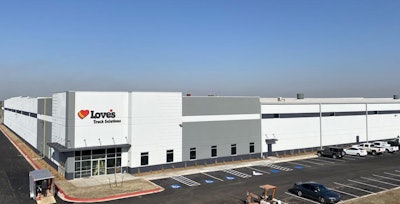 Love's Travel Stops has opened a tire retread plant and distribution center in El Reno, Oklahoma, the company announced Tuesday.
The 220,000-square-foot facility doubles the size of the one it replaces in Grand Prairie, Texas, allowing Love's Truck Care and Speedco to increase capacity and better serve customers, according to the company.
Love's has seven plants across the country and is in the process of further expanding its retread plant and distribution center capacity to increase the company's commitment to ensuring customer access to tires and parts.
"The new facility in El Reno is a great location to serve our most valuable customers and develop and distribute products to the surrounding towns and states," said Steve Phillips, director of tire sales and plant operations for Love's. "This location allows us to provide greater coverage, so our customers can get back on the road quickly and safely."