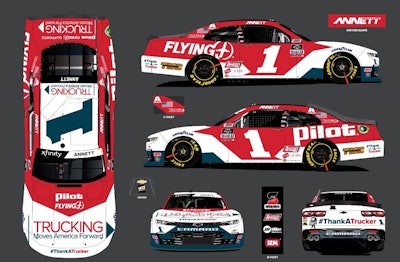 Trucking Moves America Forward, an effort to promote the importance of the trucking industry, announced today it will be a featured brand on the No. 1 Pilot Flying J Chevrolet in the NASCAR Xfinity Series event at the Michigan International Speedway on Saturday, Aug. 21.
Pilot Flying J invited TMAF to be part of their racecar branding which will feature the TMAF logo and #ThankATrucker campaign social media hashtag to support education about the trucking industry. TMAF's industry mascot, Safety Sammy, will be featured on the rear of the car waving to the crowd.
"Presenting the #ThankATrucker message on the Pilot Flying J Chevrolet is a new and exciting opportunity to spread the industry message of essentiality on a national stage," said Kevin Burch, co-chairman of TMAF, former ATA Chair and vice president of sales and governmental affairs at Martin Transportation Systems. "We thank Pilot Flying J, one of TMAF's first and most steadfast financial supporters since our launch, for providing TMAF with the opportunity to expand our reach and show why it's important to show gratitude for America's truck drivers."
This year, Pilot Flying J is donating $150,000 to TMAF along with the in-kind sponsorship of the TMAF branded No. 1 Pilot Flying J Chevrolet.
As part of TMAF's presence at the Michigan International Speedway on August 21, the organization has also secured the display of two billboards that will be seen on US-12, both east and west, heading into and out of the speedway to promote the appearance of mascot Safety Sammy at the race and #TruckingIsEssential.
The August race comes about a month before the annual National Truck Driver Appreciation Week, which this year is Sept. 12-18. TMAF's industrywide
Pilot Flying J has been the primary sponsor for JR Motorsports No. 1 for five consecutive years. The No. 1 Pilot Flying J Chevrolet is driven by Michael Annett who is now competing in his fifth season with JR Motorsports.