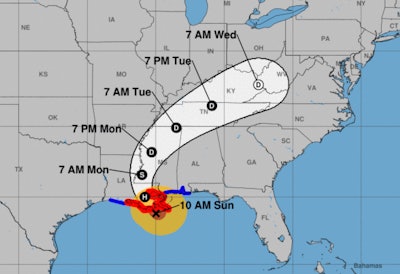 In response to Hurricane Ida, the Federal Motor Carrier Safety Administration today announced a regional emergency declaration for Alabama, Arkansas, Louisiana, Mississippi, Tennessee and Texas.
This declaration grants temporary relief for drivers and carriers providing direct emergency response with the transport supplies, goods, equipment, fuel and persons.
In an update today, the National Weather Service said, "... the eye of Ida made landfall along the southeastern coast of Louisiana near Port Fourchon around 11:55 a.m. CDT. Data from an Air Force Reserve reconnaissance aircraft and Doppler radar data indicate that Ida's maximum sustained winds at landfall were estimated to be 150 mph."
This is of the strongest hurricanes on record to hit the state of Louisiana. Hurricane Laura made landfall on Aug. 27, 2020, as a category 4 with 150 mph winds as well.
Pilot Flying J reports, "Our teams are prepared to restore service as quickly as safely possible to help recovery and relief efforts. The following locations are temporarily closed due to mandatory evacuations:
#1164 Pilot, St. Rose, Louisiana
#82 Pilot, Laplace, Louisiana
#79 Pilot, Denham Springs, Louisiana
#274 Pilot, Breaux Bridge, Louisiana
#300 Pilot, Hammond, Louisiana
#1105 Pilot, Bunkie, Louisiana
#676 Flying J, Gulfport, Mississippi
TravelCenters-TA-Petro reports the following sites have been impacted by the storm:
TA Slidell, Louisana: TA Truck Service and Country Pride are currently closed. Visit TA Greenwood (I-20, Exit 5) or Petro Shreveport (I-20, Exit 8 at Industrial Loop) for truck service. Grab and go food options are available in the travel store.
Petro Hammond, Louisana: TA Truck Service is currently closed. Visit TA Tallulah (I-20 & U.S. 65, Exit 171) or Mobile (I-10, Exit 4) for truck service.