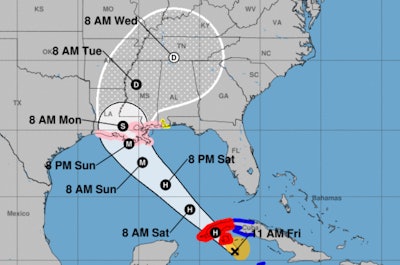 UPDATE: Evacuations are underway in parts of New Orleans and other areas in Louisiana as Ida strengthens and draws closer to a potential landfall as a major hurricane Sunday.
Pilot just posted this to its Facebook account: "With safety our number one priority, we are taking proactive steps to prepare for Hurricane Ida. All of our stores in the affected region are currently open and will remain open with plenty of fuel as long as it is safe for our team members to serve professional drivers, emergency personnel and the community."
This season's latest tropical storm -- Ida -- is expected to cause trouble along the Gulf Coast this weekend and into next week, while a Pacific Coast storm -- Nora -- could deliver some rain to parts of the Southwest later next week.
The National Weather Service predicts Ida to arrive on the Gulf Coast Sunday possibly as a Category 3 hurricane. The service suggests New Orleans could take a direct hit from the storm that today is gaining strength as it passes Cuba's west coast.
A hurricane watch has been declared for New Orleans, and Louisiana Gov. John Bel Edwards issued an emergency declaration for the entire.
"Unfortunately, all of Louisiana's coastline is currently in the forecast cone for Tropical Storm Ida, which is strengthening and could come ashore in Louisiana as a major hurricane as Gulf conditions are conducive for rapid intensification," Edwards. "By Saturday evening, everyone should be in the location where they intend to ride out the storm."
RELATED NEWS: Tips for how to prepare for hurricane season
A hurricane watch is in effect from Cameron, Louisiana, to the Mississippi-Alabama border — including Lake Pontchartrain and Lake Maurepas.
Meanwhile, in the Pacific, Nora is tracking northward and could deliver rain and flash flooding for several states in the Southwest, but is not expected to weaken before its arrival from Mexico.
"Nora may bring a dose of tropical moisture to parts of Arizona, Utah, New Mexico and Colorado that could lead to flash flooding during the middle and end of next week," said AccuWeather Senior Meteorologist Rob Miller.