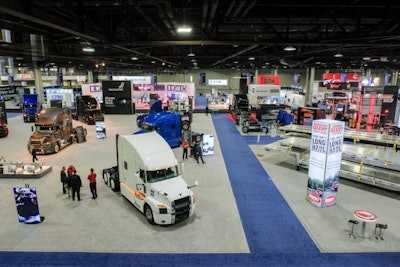 The growing number of cases of the Delta variant of the COVID-19 coronavirus is prompting numerous changes, including the cancellation of several trucking-related events. But, other major events are going on as planned.
Organizers have canceled:
ACT Research's 65th seminar
FTR's 2021 Transportation Conference
North American Commercial Vehicle Show
NTEA's 2021 Truck Product Conference
"Each organization and individual attendee has made choices over the past months based on a variety of factors, health and safety being the most pressing. While many exhibitors demonstrate commitment to the show and vaccination rates continue to rise, our research shows that the trucking industry will not be ready to attend large events like they traditionally have this fall," said Ed Nichols, vice president of Hannover Fairs USA, organizers of the North American Commercial Vehicle Show, which was to be held in Atlanta.
NTEA said of its decision to postpone its event: "Following extensive and careful deliberation, NTEA and its Board of Directors made the difficult decision to cancel our 2021 Truck Product Conference, given the significant constraints the commercial vehicle technical community is currently facing."
Still scheduled for next month is the Truckload Carriers Association's annual convention, which is scheduled for Sept. 25-28 at the Wynn Resort in Las Vegas.
RELATED NEWS: What will you do if your company requires you to get COVID vaccination?
Also still scheduled to be held are two events by the American Trucking Associations. Still on are the ATA's Technology Maintenance Council's fall meeting Sept. 12-16 in Cleveland and its Safety, Security and Human Resources conference Sept. 8-10 in Indianapolis.
ATA posted to its Facebook page this morning:
"New research from Freeman and Epistemix shows that attending large in-person business events is safer than many daily activities (like going to the grocery store) and that hosting these events does not increase local COVID-19 rates. We're looking forward to gathering safely with the #trucking community this September at #TMCFall21 in Cleveland and #SSHR21 in Indianapolis - join us!"
The spread of the COVID Delta variant remains a significant concern. Data show on Sunday, Aug. 29 there 156,885 new infections and 1,296 new deaths reported. The Delta variant has hit southern states the hardest, with many hospitals being overwhelmed by new cases.