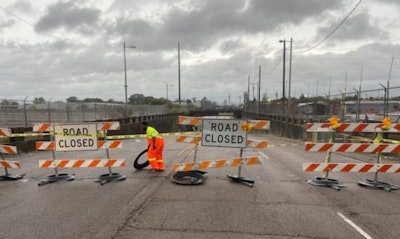 LDOTD photo
The message from the Louisiana State Police today is simple and emphatic: "Please avoid all travel at this time!"
Portions of many highways remain closed in the wake of Hurrican Ida, which Sunday barrelled across southern Louisiana and parts of Mississippi and Alabama before moving northeast. The now tropical storm is expected to deliver heavy rains along its path as far north as Pennsylvania.
The Louisana Department of Transportation Sunday warned, "Fallen trees, downed power lines, and other debris have made many roads in south Louisiana impassable, including portions of [Interstate]-10 and [Interstate]-12. This will likely be common in all areas that are in the path of Hurricane Ida."
The Federal Motor Carrier Safety Administration's Southern and Western Service Centers issued a Regional Emergency Declaration, suspending certain requirements of Part 395 of the Federal Motor Carrier Safety Regulations for certain carriers in six states affected by Hurricane Ida.
The declaration covers carriers and truck drivers providing direct assistance to the emergency related to Hurricane Ida in Alabama, Arkansas, Louisiana, Mississippi, Tennessee, and Texas. The declaration exempts these carriers and drivers from 49 CFR Part 395.3, maximum driving time for property-carrying vehicles.
Carriers transporting supplies, goods, equipment, and fuel, or providing other assistance in the form of emergency services during the emergency related to Hurricane Ida, into the affected states can operate under the exemption.
The declaration is effective through the end of the emergency, or through Sept. 28, whichever is sooner.
Check here for highway closings in Louisiana.
Elsewhere in the country, tropical rainstorm Nora is expected to deliver heavy rain to the southwestern United States. AccuWeather forecasters expect the storm to unleash heavy rains over Arizona, New Mexico, Utah, and Colorado later Tuesday into Thursday. Across southeastern California, the risk of heavy rainfall will be limited to Tuesday and Tuesday night, according to Accuweather.
At least one carrier is adjusting its operations in the wake of Ida,.
Averitt Express today said that "due to flooding conditions throughout Louisiana and parts of Mississippi and Alabama, and in the interest of the health and safety of our associates, Averitt will have limited operations in some of our locations in the following areas on Monday, August 30. NOTE: At this point, we are not accepting shipments destined for New Orleans or Baton Rouge, Louisiana.
New Orleans, LA (closed)
Baton Rouge, LA (closed)
Jackson, MS (closed)
Mobile, AL (limited service)
Meridian, MS (limited service)
Averitt said it will continue to evaluate conditions in these areas and additional areas throughout its network.