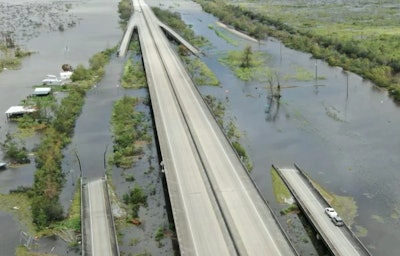 Louisiana State Police
After wreaking havoc on many parts of the Gulf Coast as a hurricane, Ida has moved to the North and East as a tropical storm, which is expected to drop excessive amounts of rain in its path.
Ida leaves behind:
at least five people killed by the storm
an estimated $15 to $20 billion in damages
some 1 million customers without electricity
as much as a foot of rain in some areas of Louisiana and Mississippi
sweltering heat that could reach as much as 100 degrees
ports that are closed in Baton Rouge, Gramercy and Morgan City in Louisiana and the Port of Pascagoula, Mississippi
The Louisiana Department of Transportation continues clearing debris from roadways, including the interstates. LaDOT this afternoon said, "... all interstate systems in Louisiana are open and travel lanes are clear of debris following Hurricane Ida. Crews recently completed clearing debris from I-10 and I-55 in the Baton Rouge and Hammond areas. Please keep the travel lanes clear for the response efforts to areas affected by the storm."
The Lousiana State Police warns, "Many roads and areas are impassable and unsafe. For those that must travel, please be aware of dangers on the roadways such as fallen trees and downed power lines. If you come upon areas of high water, remember to "turn around, don't drown." Please continue to check with local agencies for curfew times, and use DOTD's 511la.org system for current roadway conditions. You can also call *577 for State Police assistance, and 911 for emergencies. In addition to search and rescue, there will be additional Troopers patrolling the area for looters. For information about shelters, call 211.For updates related to Hurricane Ida, citizens can text "Ida" to 67283."
Two of the people who died as a result of Ida were in vehicles that fell into a large hole that opened on Highway 26 in George County, Mississippi.As many as 10 vehicles fell into the hold left when part of the highway was washed out. Seven people were injured.
Now, as Ida has weakened and moved inland, some 71 million people in various regions from the Gulf Coast to New England are once again under Flash Flood Watches. The flood alerts include the metro areas of Atlanta, Nashville, Washington, Philadelphia and New York City, places that recently faced excessive amounts of rain from Hurricane Henri.
Today, Ida was expected to bring heavy rain and strong thunderstorms to portions of Alabama, Georgia, Tennessee, Kentucky, and the Florida Panhandle. Rainfall rates of two to three inches an hour and isolated tornadoes are possible.
On Wednesday, the heavy rain moves into the Mid-Atlantic and Northeast. Locations in southern Pennsylvania through much of New Jersey and Long Island, New York may have the greatest risk of dangerous flash flooding.
Rainfall forecasts for Wednesday and Thursday include Philadelphia 2-4"; New York City 3-5"; Washington, D.C. 1-3"; and Harrisburg, Pennsylvania 5-7"
Ida caused some travel centers and truck stops to close or curtail services. They include:
Pilot Flying J
#1164 Pilot, St. Rose, Louisiana
#82 Pilot, Laplace, Louisiana
#79 Pilot, Denham Springs, Louisiana
#274 Pilot, Breaux Bridge, Louisiana
#300 Pilot, Hammond, LA#676 Flying J, Gulfport, Mississippi
#1105 Pilot, Bunkie,Louisiana
Love's Travel Stops
Love's 240 (Port Allen, Louisiana) is closed until further notice.
Speedco 923 (Hammond, Louisiana) is closed until further notice.
The Hardee's restaurant at Love's 243 (Iowa, Louisiana) is closed until further notice.
The Chester's restaurant at Love's 523 (Duson, Louisiana) is closed until further notice.
Travel Centers of America
TA Slidell, Louisana: Entire site lost power at 6:45 p.m. CT on Aug. 29. No ETA on restoration.
Petro Hammond, Louisana: Entire site lost power at 6:45 p.m. CT on Aug. 29. No ETA on restoration.