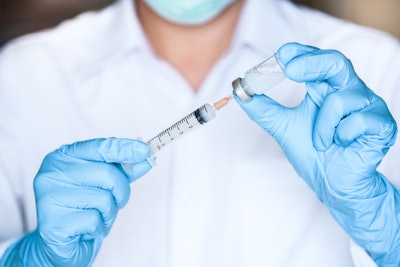 A major trucking industry organization is asking its members to contact federal officials to explain the impact President Joe Biden's sweeping COVID-19 vaccination plan would have for their trucking business and their drivers.
In an email to association members, Thursday, Sept. 16, Truckload Carriers Association Chairman Jim Ward told the association's members, "I urge you to contact your Senators and Representatives to explain the ramifications this plan could potentially have on our industry. We have always said that there is no better advocate for our segment of the industry than our members themselves. I encourage each of you to reach out to those that govern and tell your story so that we can effectively educate federal decision-makers on this concerning issue."
President Biden last week directed the Occupational Safety and Health Administration to require businesses with 100 or more employees to require workers to be vaccinated or be tested for the disease weekly. The plan also requires all federal employees to be vaccinated but provides no testing options for them. Biden said he will also sign an executive order requiring contractors working for the federal government to have their employees vaccinated.
RELATED NEWS: Biden plan requires vaccination or testing for firms with 100+ employees
In his email to TCA members, Ward, who is president of D.M. Bowman, Inc. of Williamsport, Maryland, said:
"As you are aware, President Biden recently announced his vaccination plan to the nation in an effort to curb the spread of COVID-19. While the rules and procedures regarding this plan remain in development, this mandate could have wide-reaching implications for our industry and the nation as a whole. The plan will require all employers with 100 or more employees to ensure their workforce is fully vaccinated or to require any workers who remain unvaccinated to produce at least one negative result per week prior to coming to work.
RELATED NEWS: ATA: Biden's vaccination mandate will disrupt supply chain
"Trucking has often been referred to as the backbone of the U.S. economy, with the truckload segment as its heartbeat. As an industry, we now face an unprecedented need for professional truck drivers to haul our nation's inventory at a time when the shortage of commercial vehicle operators has reached new heights. We have raced to the frontlines to supply a nation during this global pandemic, have been deemed essential by a government that truly needs us, and have demonstrated an industry-wide passion to restock the country's everyday necessities.
"Obviously, the logistics of vaccinating an army of professional truck drivers operating in an irregular operating environment remains a strong concern. A larger fear is that a rule requiring a vaccine or weekly test could lead to a massive driver exodus from this great industry. Already faced with a shrinking pool of drivers from COVID-19 itself, we are all confronted with the pervasive challenge of locating qualified drivers to deliver our nation's freight safely, effectively, and efficiently."
RELATED NEWS: A third of drivers would say 'Fire me!' if required to get COVID jab
Biden's plan comes as the Delta variant is driving up the number of new cases, hospitalizations, and deaths. To date, 41.7 million Americans have contracted the disease and some 670,000 have died from it. About 64% of Americans over the age of 12 are fully vaccinated.