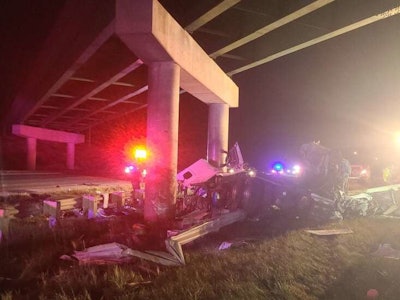 Linn County Sheriff's Office
A motorist died last week when a large coil of steel rolled off a truck's trailer and struck an SUV on U.S. Highway 127 in Butler Township south of Springfield, Illinois.
Various media reports say the incident occurred at about 6:20 a.m. Wednesday, Sept. 15. Police did not identify the person who was killed when the steel coil struck the SUV they were driving.
The trucker appears to have been unaware he lost part of his cargo. He is said to have called 911 to report he had been in a separate accident about an eighth of a mile away. He also reported the steel coil fell off his truck but was unaware another vehicle was struck.
U.S. Highway 127 was closed for about eight hours because of the crash.
Driver dies in Iowa crash
A truck driver died Sunday night, Sept. 19, in a single-vehicle crash in eastern Iowa.
The Linn County Sheriff's Department reports the single-vehicle crash occurred at about 9:50 p.m. in the area of Highway 30 and Highway 100, in Cedar Rapids.
The sheriff's office said the tractor-trailer was eastbound on Highway 30 when it left the roadway, entered the median, and struck the guardrail and bridge column. The driver died at the scene; their identity is being withheld pending notification of family.
The crash remains under investigation by the sheriff's office.
Trucker charged after hitting stopped traffic on I-10
A Louisiana trucker was charged after being involved in a crash on Interstate 10 Thursday afternoon, Sept. 16 in Texas.
The Texas Department of Safety said Savilas Francis, 46 of Scott, Louisiana, was driving the 2013 Freightliner that struck five cars in a crash that occurred at about 3:45 p.m. near the Hampshire Road exit. Francis has been charged with failure to control speed, DPS said.
Police say the trucker failed to stop for traffic that had stalled because of a previous crash. Only minor injuries were reported in the crash, which shut down the eastbound lanes of the interstate for about three hours.
Texas trucker dies in hit-and-run on I-35
Police in Texas arrested and charged a man in connection with the death of a truck driver who was struck and killed while standing at the back of his stopped tractor-trailer.
New Braunfels Police Department officers said they have arrested 29-year-old Bradley Joseph Knight of New Braunfels, He was charged with causing an accident resulting in death.
Police say Jim Newcomer, 54, from Dale, Texas, was standing near the left rear of his tractor-trailer, which was stopped on the shoulder of Interstate 35. Police say Knight's vehicle struck Newcomer and the trailer and continued on.
The incident occurred at about 8:30 a.m. Saturday.