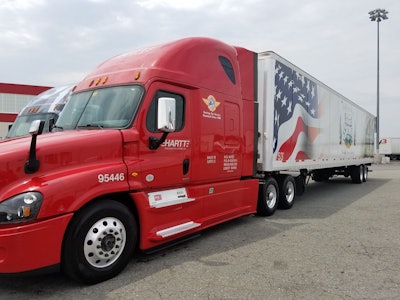 Bison Transport recently announced the acquisition of Bangor, Maine-based Hartt Transportation.
Among the largest truckload carriers in the Northeastern U.S., Hartt's fleet includes more than 360 tractors and 2,100 trailers, along with a brokerage arm.
The acquisition, effective Jan. 1, comes a year to the day that Winnipeg, Manitoba-based Bison Transport was acquired by James Richardson & Sons.
Terms of Bison's purchase of Hartt were not made public.
"We are pleased to see Bison continue to grow its existing businesses and by making this significant U.S. acquisition of a company that shares the same values as both Bison and JRSL," said JRSL Executive Chair, President & CEO, Hartley T. Richardson.
Hartt is a second-generation business, founded in 1948 by Delmont E. Hartt and then owned by his son, Billy Hartt. Billy Hartt noted his excitement for Hartt employees "to become part of the Bison family, as we share similar core values and cultures. I am certain that, with the merger of Hartt's and Bison's teams, they will produce amazing results and become an even stronger carrier for the future."
Bison President & CEO Rob Penner echoed the sentiment that there was a strong "cultural fit" between the two carriers. "There is a great energy in this business and the people have a strong desire to continue to grow and prosper in a responsible way. We believe this acquisition to be foundational in strengthening our cross-border offerings and establishing Bison Transport USA as a Tier 1 U.S. domestic fleet, well-positioned to serve the growing needs of our customers."