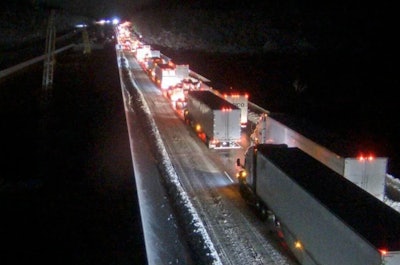 VDOT traffic camera
Crews continue working to reopen a 50-mile stretch of Interstate 95 that was closed in both directions from exit 152 (Dumfries Road) to exit 104 (Carmel Church). Hundreds of tractor-trailers and other motorists have been stranded on the interstate, son=me for more than 24 hours.
The Virginia Department of Transportation said motorists should avoid the area.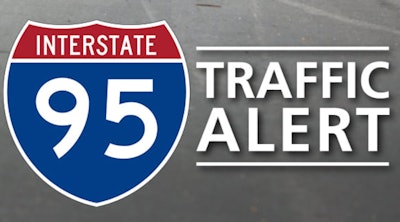 "We know many travelers have been stuck on Interstate 95 in our region for extraordinary periods of time over the past 24 hours, in some cases since Monday morning," said Marcie Parker, P.E. VDOT Fredericksburg district engineer. "This is unprecedented, and we continue to steadily move stopped trucks to make progress toward restoring lanes. In addition to clearing the trucks, we are treating for snow and several inches of ice that has accumulated around them to ensure that when the lanes reopen, motorists can safely proceed to their destination,"
RELATED NEWS: More snow in the forecast for Northeast, Middle Atlantic region.
Motorists should plan to avoid travel on I-95 in this area until lanes reopen and significant congestion clears the area. Even as travel lanes reopen, additional time will be needed to assist motorists who have been stopped for extended periods on I-95 overnight, and in some cases since Monday morning.
By 9 a.m., today a single lane of traffic was creeping forward between many stalled trucks and cars in one direction, while people could be seen walking down traffic lanes still covered with ice and snow.
A Virginia State Police spokesperson told The Free Lance-Star newspaper problems on I-95 began when a tractor-trailer jackknifed in the ice and snow, causing a chain reaction of other commercial vehicles losing control and becoming disabled in the traffic lanes.
Plans are underway to guide vehicles currently stopped on the interstate to nearby interchanges, where they can access alternate routes.
As soon as additional travel lanes open, VDOT will communicate updates through 511Virginia, news releases, on social media, and on VDOT's website.
A winter storm brought more than 12 inches of snow to the Fredericksburg region Monday morning. Road conditions on many primary and high-volume secondary roads remain snow-covered and blocked by downed trees.
The storm that dropped snow on Virginia also delivered near-record snows to Washington, D.C., and elsewhere along the East Coast.
___
This is a developing story and we expect to have updates later today.