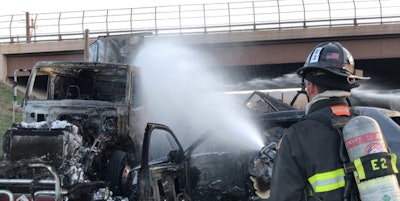 Colorado Gov. Jared Polis has reduced the prison sentence of a truck driver convicted in a deadly crash to 10 years, cutting his original 110-year term.
The decision on Rogel Aguilera-Mederos' sentence came just days after the judge in the case scheduled a hearing for next month to reconsider the sentence at the request of the district attorney, who planned to ask that it be reduced to 20 to 30 years.
District Court Judge Bruce Jones has set Jan. 13 for a hearing on the sentence handed to now 26-year-old Aguilera-Mederos after the trucker was found guilty of 27 counts at his trial in October. At the time he imposed the sentence, Jones said the length was required by the state's mandatory sentencing law.
The sentence had become an internet sensation after it was imposed Dec. 13. A Change.org petition was signed by some 5 million people, and two high-profile celebrities spoke out against the sentence. Kim Kardashian and Jason Flom both called on the judge to reduce Aguilera-Mederos' sentence.
In addition, some individual truckers took to social media to urge drivers not to drive through or accept loads to Colorado.
Aguilera-Mederos had a flatbed filled with lumber April 25, 2019, and testified at his trial that his brakes failed while descending a steep grade of I-70 in the Rocky Mountain foothills. His truck plowed into vehicles that were stopped for an earlier mishap. The collision caused a chain-reaction wreck and fire that consumed vehicles and melted parts of the highway. Four people died and six others were injured.
The crash killed 24-year-old Miguel Angel Lamas Arellano, 67-year-old William Bailey, 61-year-old Doyle Harrison, and 69-year-old Stanley Politano.