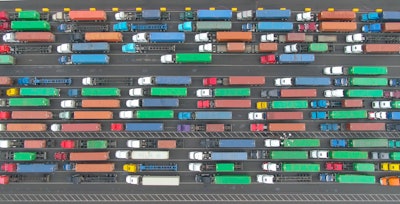 Progress is being made in efforts to resolve problems that have caused backlogs at West Coast ports, according to the Biden Administration's point person for the issue.
John Porcari, the Port Envoy to the White House Supply Chain Task Force, Wednesday, Jan. 5, said store shelves remained stocked, and the overwhelming majority of packages ordered for the recent record-breaking holiday shopping season arrived with no or minimal delays.
During a White House press event, Porcari also said the task force is monitoring the impact on ports of the Onicron variant of COVID-19. He also said steps have been taken to ensure long-dwelling cargo containers get moved and that U.S. exporters -- especially producers of agricultural goods -- are treated fairly.
Procari also addressed trucking-specific issues, which have raised concerns within the supply chain. Answering a reporter's question about the American Trucking Association's assertion there is a shortage of 80,000 drivers, Procari said:
"Well, first, Secretaries (of Labor Martin) Walsh and (of Transportation Pete) Buttigieg have been working hard to make sure that — that trucking, as a profession, is more appealing. And it's not just recruiting new people to trucking, it's retaining the truckers that you have.
"So, whether it's internship programs where you don't have to pay for the training to become a trucker, which make it more appealing, or quality of life — quality of job life issues, where it's — people are more interested in staying in the profession, those are some of the ways that it can be done.
"At the risk of stating the obvious, the private sector has an important part to play here as well in terms of pay and working conditions."