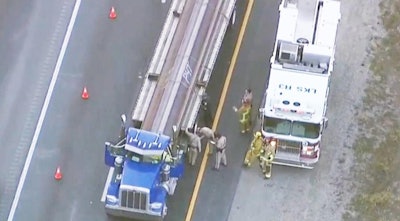 The driver of a tractor-trailer hauling steel died Tuesday, Jan. 4, when the load shift forward into the back of the cab.
The accident occurred Tuesday afternoon at about 3 p.m. on eastbound Interstate 8 near Harbison Canyon east of El Cajon, California.
California Highway Patrol is continuing its investigation. The name of the trucker was not released.
Section of I-94 in Detroit to close this weekend
Part of Interstate 94 in Detroit will be closed this weekend as crews continue work on an overpass.
The Michigan Department of Transportation today said workers will be setting new bridge beams on the Cadillac Avenue overpass above I-94. This work will require closing westbound I-94 from Conner Avenue to I-75 starting at 9 p.m. Friday, Jan. 7. Westbound I-94 is expected to reopen by 5 a.m. Monday, Jan. 10.
Westbound I-94 traffic will be detoured via westbound M-102 (Eight Mile Road), southbound M-3 (Gratiot Avenue), the westbound Gratiot Connector, and northbound I-75 back to westbound I-94. One lane of westbound I-94 traffic will be open to Conner Avenue for local traffic. All entrance ramps to westbound I-94 will be closed by 9 p.m. Friday from Chalmers to Van Dyke avenues and will reopen by 5 a.m. Monday.
Peterbilt shows off autonomous system at major tech show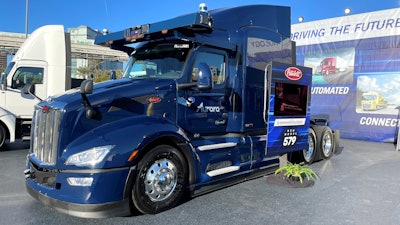 Peterbilt unveils the first Model 579 equipped with the Aurora Driver, a Level 4 advanced autonomous system at the Consumer Electronics Show in Las Vegas this week.
"Peterbilt has a rich history of delivering customers trucks outfitted with the very highest level of safety systems and technologic advancements," said Jason Skoog, Peterbilt's general manager and PACCAR vice president. "The New Model 579 with Aurora's technology is a perfect representation of the continuation of this history,"
Introduced in early-2021, the Model 579 is the most technologically advanced truck Peterbilt has ever built, according to the company. Featuring major improvements in aerodynamics, efficiency, comfort, technology and uptime, the New Model 579 has a ew exterior design with improved aero and a quieter interior with best-in-class comfort and innovative new technologies, a statement from Peterbilt said. These technologies are highlighted by a 15" digital dash display, which features a clean and intuitive interface simplifying the delivery of all the important information drivers need to do their job as efficiently as possible.
ICYMI
Schneider grows dedicated service with Midwest Logistics Systems purchase
Autonomous truck makes trip with no one onboard, no human intervention
Poll: Do you expect to be paid more in 2022?
Take a look at this