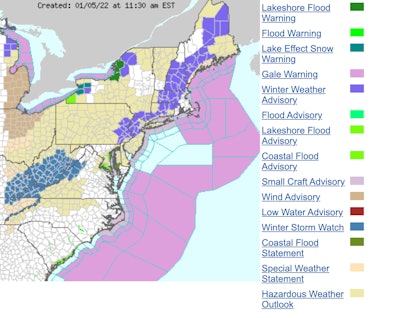 While the numerous tractor-trailers and other vehicles stranded on Interstate 95 earlier this week in Virginia have been cleared, more troubling winter weather is in the forecast again for much of the Northeast and parts of the Middle Atlantic region. Truckers ought to once again expect demanding driving conditions along Interstate 95 Thursday and Friday.
AccuWeather this morning said this latest storm is expected to bring what it said is "snow and slippery travel to much of the Interstate 95 corridor from northern Virginia to Maine, including in the major metro areas of New York City, Philadelphia and Washington, D.C. Three to 6 inches of snow is forecast for the area from Philadelphia to Boston.
Considerable snow is possible in the West Virginia mountains and areas from northwestern Virginia to southwestern Pennsylvania. Snowfall from 3 and 12 inches could lead to travel disruptions along interstates 64, 68, 70, 76, 79, and 81, according to AccuWeather.
RELATED NEWS: New year delivers difficult winter driving coast to coast
Elsewhere, there are high wind and black ice warnings in several locations across the Midwest. Parts of Interstate 80 in Wyoming are closed by blizzard-like conditions.
The National Weather Service today said another winter storm is possible from the Tennessee Valley to the Northeast beginning Thursday. A low-pressure system in the South is expected to deliver snow to parts of the Central Appalachians while ice is expected in much of Tennessee and northern Mississippi/Alabama.
That system is expected to intensify as it moves along the Atlantic Coast and into the Northeast.
Flooding and heavy snows are again forecast for the Pacific Northwest and northern California. The Northern Plains can expect high winds and severe temperatures today and Thursday. Lafe effect snow is forecast for the Great Lakes region today through Thursday.