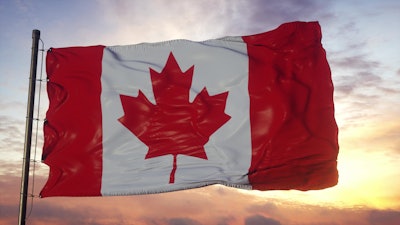 Canada is easing COVID-related restrictions for truckers entering the country, but only for drivers domiciled in that country and not those from the U.S.
The Canada Border Services Agency earlier this week said that unvaccinated, or partially vaccinated Canadian truck drivers arriving at the U.S.-Canada border will remain exempt from pre-arrival, arrival and post-arrival testing and quarantine requirements.
However, truckers from the U.S. will still need to be vaccinated or they will be turned back at the border starting Saturday, Jan. 15, according to the border services agency.
Drivers from both countries have been considered essential employees, and trucks have crossed the border freely even after it was closed for 20 months.
The Canadian government had announced in November that all truck drivers crossing into Canada would need to be fully vaccinated by Jan. 15, regardless of nationality. Unvaccinated or partially vaccinated Canadian truckers would have been required to take a COVID-19 test and enter isolation. Unvaccinated U.S. truckers were to be turned back at the border.
The Federal Motor Carrier Safety Administration posted to its website:
"Effective January 15, 2022, all travelers entering Canada, including truck drivers, must use ArriveCAN to provide mandatory travel information, including proof of vaccination. Submission of mandatory travel information can be done up to 72 hours before arriving in Canada. ArriveCAN is available as a free mobile app and can also be accessed via a web-based version at Canada.ca/ArriveCAN. Exempt travelers, such as truck drivers, can also save time by creating a reusable receipt in ArriveCAN. This allows them to submit their mandatory information once and create a single receipt that can be used each time they cross the border."