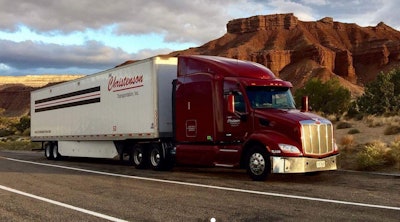 Editor's note: This post was was updated Jan. 13 to correct usage of a photo of a Sharp Transport truck. The photo posted was from Sharp Transportation Systems, which is based in Cambridge, Ontario ,and is in no way impacted by the sale of Sharp Transport.

Mergers and acquisitions activity continues in the trucking industry as 2022 gets under way.
Christenson Transportation has acquired Sharp Transport, a family-owned carrier headquartered in Ethridge, Tennessee.
The deal gives Strafford, Missouri-based Christenson, which operates about 180 trucks, another 120 drivers, including a mix of company drivers and owner-operators. Both carriers largely operate in the same freight lanes in the lower 48 states.
RELATED NEWS: Bison buys Maine-based truckload carrier
"What really drew us to Sharp Transport, which is a family-owned company that's been around as long as ours — 42 years — was its similar culture built around the drivers that matched ours," said Christenson Transportation President and CEO Don Christenson. "I tell people that it's easy to quit a job but it's hard to quit on your friends and family. Our goal is to make our drivers feel like they are part of our family and Sharp Transport shares that same goal."
RELATED NEWS: Truckload carrier, Ascend, forms from merger of Milan Supply Chain Solutions and J&B Services
The company will operate under the name Sharp Transport, a division of Christenson Transportation, and Allie Sharp-Schwalb, who served as president and CEO of Sharp Transport, will serve as vice president of the company for three years to help with the transition. Christenson also acquired Sharp's brokerage operation, which will be folded into its own brokerage company, CS Carrier Service LLC.
EHS Trucking Enterprises acquired by RoadOne
EHS Trucking Enterprises has been acquired by RoadOne IntermodaLogistics.
Located in Brownstown, Michigan, EHS is a full-service trucking company serving the Great Lakes Region with a fleet of 170 tractors, 200 drivers and independent contractors as well as 700 trailers. Founded in 1998, EHS provides dedicated point-to-point regional truckload & less-than-truckload services from manufacturers/suppliers to automotive-related assembly plants and/or related distribution centers direct.
RELATED NEWS: Schneider grows dedicated service with Midwest Logistics Systems purchase
RoadOne IntermodaLogistics, one of the largest intermodal trucking providers in North America, offers port and rail container drayage, terminal operations, dedicated truckload services, and transloading, warehousing, and distribution solutions nationwide.