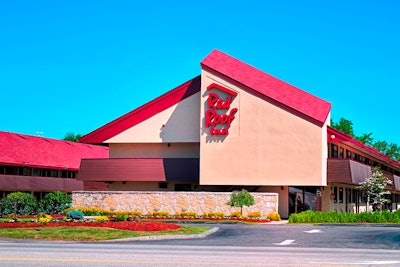 A truck parking company and a major economy hotel chain have announced a partnership as part of efforts to provide safe parking for drivers.
The collaboration between TruckPark and Red Roof provides discounts to truck drivers using the TruckPark app to book accommodations at Red Roof locations across the nation.
"Partnering with Red Roof is further evidence of our commitment to enhance the driving experience for the more than two million drivers who have access to the TruckPark app," said TruckPark CEO Anthony Petitte.
When booking a room with the TruckPark app, truckers will receive a 15% discount off the Best Available Rate (BAR) at participating Red Roof locations. Red Roof is introducing the program to all owners and operators that facilitate a truck parking option, according to a statement from the two companies.
"Meeting our customers where they are is paramount when providing solutions," said Staci Olney, Red Roof vice president for national sales."Red Roof has a long history in serving the transportation industry and as technology brings more opportunities Red Roof will continue to evolve in bringing new business to our Owners and Operators,"
Red Roof has over 670 properties and nearly 60,000 rooms in the U.S.