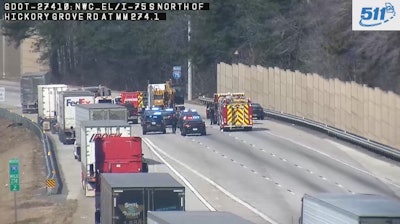 Trucker shot several times on I-75 near Atlanta
Police continue to look for the person they say shot and seriously wounded a truck driver on Interstate 75 near Atlanta Wednesday, afternoon, Feb. 16.
The driver, whose name was not released by police, was shot by another motorist around 1 p.m. The incident, which has been branded as a possible "road rage", occurred north of Wade Green Road, in Cobb County.
No description of the suspect, who fled the scene after shooting the trucker, or a vehicle was available.
The day before police shot a man who was driving a stolen 18-wheeler and ramming cars on Interstate 85 near Newnan southwest of Atlanta.
Crash and fire involving three trucks closes part of I-610
A collision and fire involving three trucks led to the closing of Interstate 610 in Houston Wednesday, Feb. 16.
The accident occurred when a fuel truck had brake problems. Another truck swerved to miss the fuel truck and struck another truck. The three trucks caught fire, destroying the vehicles and damaging part of the highway.
None of the drivers reported any injures.
Police continue their investigation.
Gasoline tanker crashes and burns on Long Island
A trucker and three firefighters were injured Wednesday, Feb. 16, when a tanker loaded with gasoline crashed into a vacant building and caughtfire.
Authorities say the wreck occurred at about 1 a.m. on Sunrise Highway near Rockville Center about 30 miles east of New York City.
The driver was able to get out of the overturned truck on his own. The tanker was loaded with more than 9,000 gallons of gasoline.
More than 150 firefighters responded to the blaze in a vacant La-Z-Boy showroom.
The crash remains under investigation.
ICYMI
Online voting by the public will choose Highway Angel of the Year
"Egregiously noncompliant" Houston carrier shut down by FMCSA
Diesel tops $4 a gallon for first time in almost 8 years
Mark your calendar: Roadcheck inspection blitz is May 17-19
Take A Look At This