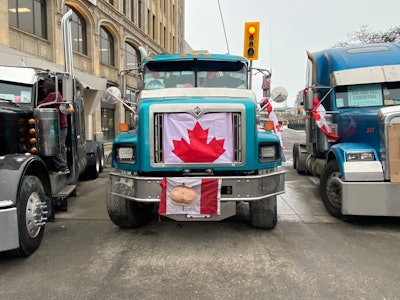 Gary A Corcoran Arts / Shutterstock.com
Elected officials from the U.S. and Canada wrote a letter to President Joe Biden and Canadian Prime Minister Justin Trudeau requesting the leaders reinstate the exemption for truck drivers from cross-border COVID vaccine mandates.
"We understand the vital importance of vaccines in the fight against COVID-19 and continue to encourage eligible individuals to get vaccinated," the group of 16 U.S. governors and two Canadian provincial premiers said in the letter. "However, we are deeply concerned that terminating these exemptions has had demonstrably negative impacts on the North American supply chain, the cost of living, and access to essential products for people in both of our countries."
The letter noted that the timing of the mandates – with Canada's going into effect Jan. 15 and the U.S.' on Jan. 22 – "could not have been worse" due to supply chain challenges caused by the pandemic.
"These constraints, combined with increasing inflation, place significant burdens on the residents of Canada and the United States," the group added. "Furthermore, transportation associations have informed us that the lack of exemptions will force thousands of drivers out of the trucking industry, which is already facing a significant workforce shortage. The removal of these exemptions is ultimately unnecessary, and we cannot afford to lose any more truck drivers who transport food and other vital supplies across the border."
Meanwhile, Canadian law enforcement officials cleared protesters from the Ambassador Bridge between Windsor, Ontario, and Detroit. Other border crossings have been cleared and police arrested 100 protesters and towed 21 vehicles Friday in Ottawa.
More enforcement action is expected today. Early this morning, Ottawa Police tweeted, "DEMONSTRATORS: You must leave. You must cease further unlawful activity and immediately remove your vehicle and/or property from all unlawful protest sites. Anyone within the unlawful protest site may be arrested."
Protests have blocked downtown Ottawa for some three weeks.