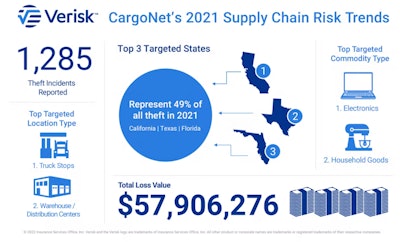 Cargo theft recording firm CargoNet recorded 1,285 supply chain risk events across the United States and Canada in 2021, a 15% decrease in activity year-over-year.
Fifty-five percent of events involved the theft of at least one heavy commercial motor vehicle, which includes semi-tractors, semi-trailers, or intermodal chassis or container. Fifty-four percent of events involved the theft of cargo or attempted theft of cargo. The average cargo value per cargo theft was $172,340, for an estimated total of $57.90 million in cargo stolen across the United States and Canada in this period.
California remains the top state for reported cargo thefts with CargoNet recording a 13% increase year-over-year. This comes as no surprise to experts, as California continues to struggle with an increase of sophisticated attacks on shipments of computer components across the Bay Area and Southern California.
Texas recorded the second-most activity and saw a year-over-year decrease in theft activity of 15%.
Florida rounds out the top three states with a slight increase of 6% and continues to see a shift from Miami-Dade into Broward, Palm Beach, Hillsborough, and surrounding counties.
Cargo thieves continued to show a strong preference for electronics shipments, which saw a significant 34% increase year-over-year. Specifically, CargoNet has noted increased targeting of consumer electronics shipments – particularly computers and accessories.
Household items were the second-most stolen commodity but dropped compared to 2020.
In contrast, food and beverage thefts dropped 35%, because supply chain partners reported fewer pilferages of these products.
CargoNet expects that theft activity will remain elevated this year.
TCA reaches 20-year high in membership
The Truckload Carriers Association has reached a new membership milestone of 800 members. This is a 20-year high in membership for TCA, and it has been reached with a recent 18% year-over-year surge in members.
TCA's membership is comprised of for-hire carriers, private fleets, associates, and driver training schools. TCA carrier members now have a combined truck count of more than 220,000 trucks that represent more than $40 billion in annual truckload revenue.
"We're thrilled with these record membership numbers, and we look forward to building on this success," said TCA Vice President of Membership & Outreach Zander Gambill. "TCA's membership value proposition has never been stronger, and our engaged members and their contributions to TCA have been integral to our growth. We are proud to serve this essential marketplace and community."
TCA's membership is set to converge on TCA's Annual Convention, Truckload 2022: Las Vegas, March 19-22 at the Wynn Las Vegas.
FMCSA kids coloring contest seeks entries
FMCSA's 2022 Road Safety Art Contest is accepting entries now through June 3.
The contest encourages students in grades K-12 to use their creativity and talent to learn about traveling safely around large trucks and buses. While there are many factors in road safety, sharing the roads with commercial motor vehicles is critical in keeping our roads and highways safe, according to the FMCSA.
Winning artwork will best depict through original creativity how all road users — from cars, to bikers, to pedestrians — can stay safe around large trucks and buses by:
Recognizing long stopping distance

Staying aware of their large blind spots

Understanding the need for more room to turn safely
Entries are due by June 3.
Facebook "People's Choice" voting will be held July 11 – 17.
Winners will be announced in September.
Students can view samples and learn more about large trucks and buses at the FMCSA Kid Zone and Teen Zone.
For more information, visit FMCSA's Road Safety Art Contest.
ICYMI
With deep family ties, Nortia Logistics raises funds for Ukraine
More highway weight restrictions begin Monday in Michigan
Trucking organizations react to EPA's emissions reduction plan
Fan of COEs? Then you have to see this ...