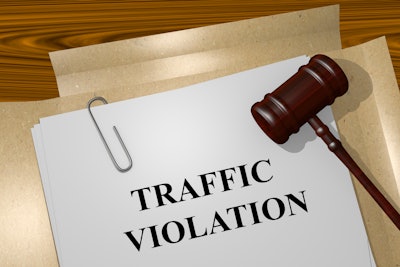 The Federal Motor Carrier Safety Administration is amending its regulations to remove the requirement that truck drivers prepare and submit a list of their convictions for traffic violations to their employers annually. The final rule was published in the Federal Register Wednesday, March 9, and takes effect May 8.
FMCSA says the requirement is "largely duplicative of a separate rule that requires each motor carrier to make an annual inquiry to obtain the motor vehicle record (MVR) for each driver it employs from every state in which the driver holds or has held" a license over the year.
For drivers who are licensed by a foreign authority rather than a state, FMCSA is requiring that motor carriers make an annual inquiry to each driver's licensing authority where a driver holds or has held a CMV operator's license or permit.
To maintain consistency within the regulations, FMCSA is also making changes to the hiring process. Under the new rule, carriers will be required to obtain a driver's MVR from anywhere the driver has held a CDL or permit in the preceding three years when hiring a driver.
Additionally, drivers will be required to provide on their employment application the issuing driver's licensing authority of each unexpired CDL or permit so carriers can make the required inquiries.
College receives $300,000 for CDL scholarships
Umpqua Community College, which is located in Roseburg, Oregon, recently received a $300,000 grant from Douglas County and the State of Oregon to support truck driver training scholarships. The scholarships result from federal funds received by the state under the American Rescue Plan Act Coronavirus State Fiscal Recovery Fund for special districts and organizations.
UCC will provide training scholarships for up to 150 entry-level professional truck drivers, preparing them to earn a CDL. The truck driving program at Umpqua Community College provides 160 hours of hands-on instruction with options to train over four weeks or ten weekends.
UCC also recently received the donation of two 2015 Freightliner Cascadias from Daimler Trucks North America and Freightliner Northwest.
Walmart to open Pennsylvania fulfillment center
Walmart announced Tuesday, March 8, plans for a new fulfillment center in southern Pennsylvania to support its supply chain network and e-commerce capabilities. The 1.8 million-plus square-foot Shippensburg facility will be located at 2281 United Drive and is set to open this spring.
"We are proud to open a new state-of-the-art fulfillment center in Shippensburg, which will be instrumental in providing our customers with increased access and faster shipping on millions of everyday low-priced items," said Steve Miller, SVP Supply Chain Operations, Walmart U.S. "In addition to faster shipping, our investment in Shippensburg will bring a positive impact to the community by bringing even more employment opportunities to a growing local economy."
Unlike distribution centers, which are focused on receiving, storing, and distributing products to Walmart stores, fulfillment centers like this new one are focused on storing millions of items that are picked, packed, and shipped directly to customers as soon as the next day.
ICYMI
Company Driver of the Year finalist got his start haulin' spuds
For Denny Cravener, a boyhood dream has come true for going on 50 years
Trucking organizations react to EPA's emissions reduction plan