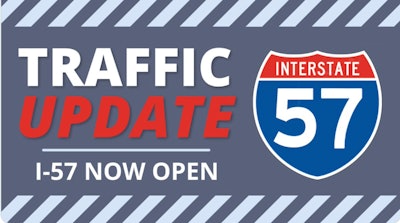 Numerous tractor-trailers were involved in a series of collisions on Interstate 57 in southeast Missouri Thursday morning that left six people dead and multiple people with injuries. Authorities say the chain-reaction accidents near Charleston, Missouri occurred at about 8 a.m. in dense fog.
Estimates of the number of vehicles involved range from 50 to 135, some of which caught fire. Images from the accident scene showed several tractor-trailers and their contents burning.
The crash began in the southbound lanes of I-57 and spilled over into the median and northbound lanes.
At least 20 emergency services from Missouri, Illinois, and Kentucky responded to the scene.
It wasn't until 5 a.m. today that the Missouri State Police said I-57 had reopened.