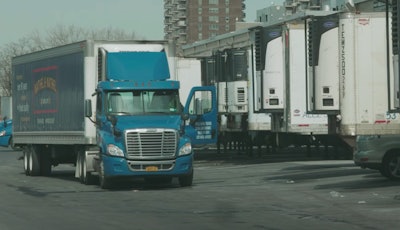 A plan to revitalize the economy of New York City could make life easier for drivers who deliver to one of its primary trucking destinations.
New York City Mayor Eric Adams unveiled a sweeping plan for the city late last week, and part of it is $140 million to improve Hunts Point Produce Market and the South Bronx neighborhood where it's located.
Businesses at Hunts Point provide more than 25% of the fresh produce consumed by the city's 8.4 million residents. Some 78,000 vehicles travel daily to Hunts Point.
"We will support the redevelopment of the Hunts Point Produce Market, recognizing its vital role in the food supply chain that employs thousands of New Yorkers and supplies 25% of the city's fresh produce," reads a city publication on the plan.
He added about Hunts Point: "It has been ignored. All we have to do is just give it a little polish, a little love, a little care, and it will shine for many more generations to come."
J.B. Hunt announces partnership with BNSF Railway
J.B. Hunt Transport Services Inc. and BNSF Railway Company recently announced they are launching a joint effort the two companies say will improve capacity in the intermodal marketplace while also meeting the expanding needs of current customers.
In a statement, the two companies said demand for intermodal services has grown significantly in recent years as companies look to secure capacity while reducing costs and their carbon footprint. Based on current and projected trends, J.B. Hunt said it plans to grow its intermodal fleet to as many as 150,000 containers in the next three to five years, a 40+% increase from its count at the end of 2021. The company said it has completed more than four million intermodal loads since 2020.
"Over the past few years, intermodal has been disrupted by increased demand and tight capacity, resulting in poor container velocity and long dwell times," said John Roberts, president and CEO of J.B. Hunt. "Together, J.B. Hunt and BNSF will enhance their work to bring back the consistency and reliability customers expect with intermodal services and further embrace intermodal conversion and transloading services."
As part of the initiative, BNSF will increase capability at multiple intermodal facilities. To further integrate its joint service product with J.B. Hunt, BNSF said it is providing several property locations around key intermodal hubs in Southern California, Chicago, and other key markets to increase efficiency at terminals. Additionally, BNSF will bolster its railcar equipment to accommodate the anticipated increase in container capacity, which will support efficient throughput and strong service performance.
In addition to growing its container count, J.B. Hunt will add supporting chassis based on market need. Over the years, both companies have invested billions of dollars to ensure intermodal's ability to grow with customers and meet the increasing demand for intermodal services.
Leonards Express wins state fleet safety award
Leonard's Express – a provider of refrigerated trucking, dry van, warehousing, and freight brokerage services – recently won the Trucking Association of New York's fleet Safety Award in the large class, general commodities truckload category.
"Leonard's Express is committed to the safety and well-being of our drivers and the public, who we share the roads with," said Katie Griffin, director of Fleet Safety for Leonard's Express. "This commitment starts on day one with orientation and training and includes an in-depth study of safety rules and regulations, electronic logging devices, our clearly defined accident policy, and regular vehicle maintenance. Drivers with less than six months of experience go through a rigorous training program, and, when it's needed, we use driving school resources for retraining of more seasoned drivers. In addition, all drivers are assigned time on our state-of-the-art truck simulator."
All Leonard's Express trucks are equipped with safety equipment such as dashboard cameras and speed monitoring devices. These tools provide drivers instant feedback on how to keep themselves and other motorists safe on the road. Accidents are rare, but when they do occur, cameras are key to accident documentation, investigation, and prevention. Leonard's has also instituted quarterly safety meetings, and its Risk Control Team interacts with drivers regularly.
ICYMI
With deep family ties, Nortia Logistics raises funds for Ukraine
Driver Poll: Any job change plans on your horizon?
Mark your calendar: Roadcheck inspection blitz is May 17-19
Latest Gear Guide loaded with tips for safer, more productive driving
Take A Look at This