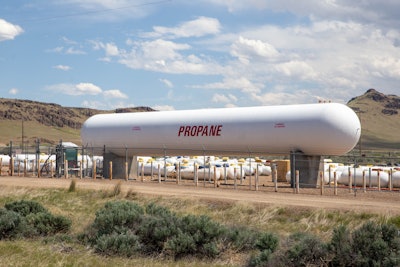 The Federal Motor Carrier Safety Administration late last week amended its COVID-19 emergency declaration by adding three new commodities to the list that qualify for the limited hours of service relief outlined in the declaration's waiver of maximum driving time limits.
FMCSA has added propane, natural gas, and heating oil to the declaration. Other fuels – including gasoline, diesel, jet fuel, and ethyl alcohol – were already included in the declaration.
Under the terms of the declaration, carriers hauling these commodities among others in direct assistance in support of relief efforts related to the COVID-19 public health emergency are granted emergency relief from 49 CFR § 395.3, maximum driving time limits.
Unless extended again, the declaration expires May 31.
Other commodities covered by the declaration include:
Livestock and livestock feed
Medical supplies and equipment related to the testing, diagnosis and treatment of COVID-19
Vaccines, constituent products and medical supplies and equipment including ancillary supplies/kits for the administration of vaccines, related to the prevention of COVID-19
Supplies and equipment necessary for community safety, sanitation and prevention of community transmission of COVID-19 such as masks, gloves, hand sanitizer, soap and disinfectants
Food, paper products and other groceries for emergency restocking of distribution centers or stores
Gasoline, diesel, jet fuel and ethyl alcohol
Supplies to assist individuals impacted by the consequences of the COVID-19 pandemic (e.g., building materials for individuals displaced or otherwise impacted as a result of the emergency)
Carriers who operate under the terms of the declaration are required to report their use of it to FMCSA within five days of the end of each month via their FMCSA portal account.