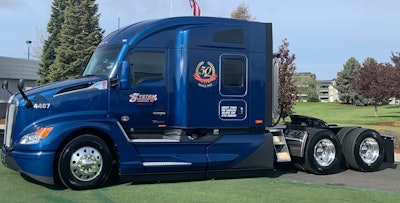 Kenworth recently delivered its 10,000th T680 Next Generation to System Transport at the company's 50th anniversary celebration in Spokane, Washington.
The T680 Next Generation equipped with a 76-inch mid-roof sleeper was built by the employees at the Kenworth assembly plant in Chillicothe, Ohio.
"This is a special moment for Kenworth and Kenworth Sales Company – Spokane as we deliver the 10,000th T680 Next Generation just 15 months after product launch to System Transport in celebration of its 50th anniversary," said Hank Johnson, Kenworth general sales manager – West and medium duty. "We thank System Transport – and all our T680 Next Gen customers – for their business."
Johnson and Doug Powell, Kenworth director of fleet management, presented a special plaque to the company's management. Also representing Kenworth was Brandon Singh, connected services marketing manager.
System Transport hauls all types of flatbed freight, primarily throughout the West Coast to the Midwest. Last year, System Transport was selected to transport the 2021 U.S. Capitol Christmas Tree from the Six Rivers National Forest in California to Washington, D.C. A team of its drivers used a T680 Next Gen 76-inch mid-roof sleeper to successfully complete the special 3,300-mile haul.
"It is an honor for System Transport to be selected to receive Kenworth's 10,000th T680 Next Generation," said Jim Williams, founder and chairman of Trans-System, the parent company of System Transport. "We have purchased Kenworth trucks from our Kenworth dealer in Spokane for more than 30 years and have ordered more than 60 T680 Next Gen trucks so far."
Maverick 'Round Up' raises $764,000 for Ukraine relief
Maverik — Adventure's First Stop helped people affected by the Ukraine crisis through raising nearly $764,000 as part of its five-week "Round Up Your Change" register donation program to benefit the global Red Cross network.
Customers and team members rounded up their cash and credit transactions to the nearest dollar at Maverik stores across 12 states raising nearly $414,000, while Maverik offered an initial donation of $50,000 and matched the "Round Up" contribution by $300,000.
"Maverik is grateful for the opportunity to provide a platform for people to come together in solidarity and hopes the total gift will help support the millions of people whose lives have been forever changed," said President and Chief Adventure Guide of Maverik Chuck Maggelet.
One hundred percent of Maverik's initial donation and the funds raised from the "Round Up" program will go toward the global Red Cross effort to provide humanitarian aid to people affected by the crisis in Ukraine. The Red Cross is committed to providing lifesaving aid to those in need and is currently on the ground distributing food, delivering medicine and medical supplies, assisting with evacuations, and providing shelter.
"Thanks to Maverik's generous support, the global Red Cross network is helping families impacted by continued fighting in Ukraine," said Anne McKeough, chief development officer at the American Red Cross. "We are grateful for partners like Maverik as we work together to help provide critical humanitarian relief in response to the Ukraine crisis."
National Waste & Recycling Association names top drivers
The National Waste & Recycling Association recently announced its 2022 Drivers of the Year and Operator of the Year winners. The awards recognize the drivers and an operator from member companies who put safety as their top priority.
The 2022 Driver of the Year Awardees include::
National Commercial -- Frank Epps, Republic Services, Inc.
National Industrial – Jason Tavares, Republic Services, Inc.
National Residential – Kevin Johnston, Republic Services, Inc.; Richard Denshuick, Republic Services, Inc.
Regional Commercial -- Ricardo Arredondo, Recology
Regional Industrial – Howard Kattine, Rumpke; Willard Wells, Rumpke
Regional Residential – Harvinder Dhatt, Recology
Local Member – Mike Charpentier, Veit Vonco
Public Sector – Chuck Orencole, Wasatch Front Waste and Recycling
The Driver of the Year awards are for those drivers who operate their trucks in a safe and responsible manner, have outstanding performance records and whose contributions have enhanced the overall safety and image of the solid waste industry.
2022 Operator of the Year Awardee is John A. Pogue, of WM.
The Operator of the Year award is for employees working in post-collection for a materials recovery facility, landfill or transfer station who safely operate heavy equipment, including bulldozers, front-end loaders and compactors.
The finalists were determined by a computerized scoring system. Independent judges selected the winners based on letters of recommendation and, for drivers, the difficulty of the route. During judging, operators were also judged on the difficulty of their equipment to operate. This year, a tie occurred in the following categories: National Residential and Regional Industrial.
ICYMI
FMCSA waives hours regs for shipments of baby formula
Driver Poll: How long will you wait to talk to a recruiter?
Trucker named a true Angel after rescuing mother and child from crash
Women In Trucking photo contest seeks entries that show your pride