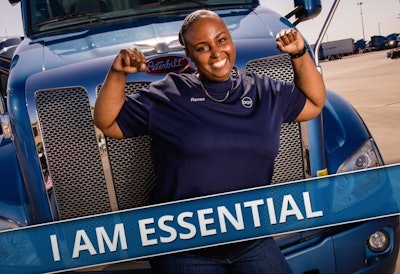 A national organization is seeking entries from women in the trucking industry for its annual photo contest.
Women in Trucking is asking women in the industry to send in photos that "show us your pride for your role in the trucking industry."
In announcing this year's contest, WIT said:
"Trucking is so much more than moving goods from point A to point B. There are many people behind the scenes that help ensure the continued success and operations of the entire industry that keeps the economy moving. From the person behind the wheel, dispatching the call, fixing the truck, manufacturing the part, making the sale, managing the inventory, leading the company, and beyond, trucking is a team effort.
"Feel free to be creative in using posters, t-shirts, stickers, signs, balloons, etc. Let's show the public the many crucial roles and responsibilities that are behind the industry that is the backbone of America. WE are trucking!
"Remember: photo entries must feature a truck. Winners will be featured in Redefining the Road magazine, at a special reception during the 2022 Accelerate! Conference, and highlighted on social media."
The contest rules include:
Contestants may submit only one photo for judging (high resolution/300 dpi preferred, the file name MUST end in either ".jpg", ".gif" or ".png.").
Photo entries must feature a truck and incorporate the WE are Trucking theme.
People's Choice is determined by online voters; one vote per person. Judges' Choice is determined by a panel of judges. The voting period will be held after June 17.
All photo submissions become the property of the Women In Trucking Association and can be used for publicity purposes. Contestants must agree to the use of their photo submissions by the Women In Trucking Association and its designees for marketing, advertising, and publicity purposes.