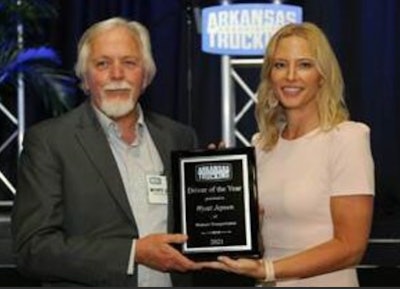 The Arkansas Trucking Association recently named top award recipients for 2021.
Wyatt Jepsen of Walmart Transportation was named the association's the 2021 Driver of the Year. Russ Curbo- director of safety at Lew Thompson & Son Trucking in Huntsville, Arkansas- was named the 2021 Safety Professional of the Year.
Both awards were presented at the Safety Awards Luncheon during the ATA Annual Business Conference and Vendor Showcase in Hot Springs.
Jepsen has been a professional truck driver for 37 years, with 27 of those years spent with Walmart Transportation. While at Walmart, Jepsen has accumulated over 3.5 million accident-free miles and is a member of Walmart's Million Mile Accident-Free Club.
He is also a member of Walmart Transportation's emergency response team, traveling to areas of crisis to deliver critical supplies. Jepsen, in the past year, supported relief efforts in Louisiana in response to Hurricane Ida by delivering and manning a mobile pharmacy. He has also delivered food to Mayfield, Kentucky, in the aftermath of tornadoes and stayed several weeks to help cook for people in the community. He and his wife, Vickie, reside in Rogers.
Curbo has over 30 years of industry experience and has worked as a driver, maintenance technician, and highway police, and 17 years in safety. In his position as safety director, Curbo has developed policies and procedures to allow Lew Thompson to adopt safety technology, this includes the electronic logging devices and outward-facing cameras on trucks.