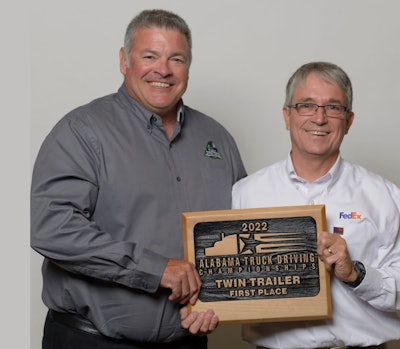 A veteran trucker with more than 3.5 million safe miles to his credit won the Alabama Truck Driving Championships held May 27 at the Pelham Civic Complex.
Dan Thompson, of Spanish Fort, Alabama took the top spot in the Twins Class and was the overall champion with a combined score of 385. It was his second time winning the Alabama TDC's top spot, having done so in 2016. Thompson drives for FedEx Freight and won the competition in 2016.
Class winners included:
3-Axle: Tony Johnson, TForce Freight
4-Axle: William Brandon, FedEx Freight
5-Axle: Alphonso Lewis, Yellow
Sleeper Berth: Jason Webber, LB3
Flatbed: Thomas Garner, FedEx Freight
Tank Truck: John Carter, FedEx Freight
Straight Truck: David Hawk, FedEx Freight
Honorable Mention: Rookie of the Year: Steven Speer, Walmart
Pre-Trip: Rusty Holmes, Triple R Metals (Perfect Score)
All class winners qualify to participate in the national competition in Indianapolis in August.