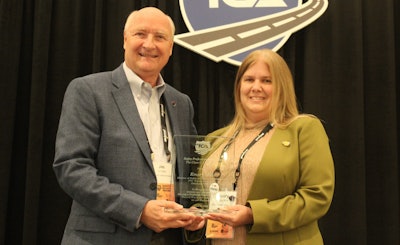 The Truckload Carriers Association awarded FTC Transportation's Director of Safety & Driver Administration Emory Mills as the recipient of its 2022 TCA Safety Professional of the Year — Clare C. Casey Award. The announcement was made this week during TCA's 41st Annual Safety & Security Meeting in Nashville, Tennessee.
This honor is bestowed upon a trucking industry professional whose actions and achievements have made a profound contribution to enhancing safety on North America's highways.
"I'm extremely honored to have been selected for the Clare C. Casey Award and overwhelmed to stand alongside of previous award winners, colleagues in safety, who have been an amazing resource over the years and who have always freely shared their wisdom and experiences," said Mills.
Emory's career began at FTC in 2000 where she started in the fuel taxes & permits department. Years later, she moved into the safety space as a driver & safety coordinator advancing to driver & safety manager, to now her current position as director of safety & driver administration.
Saia opens new Illinois terminal
Saia announced today that Saia LTL Freight has opened a new terminal in Rockford, Illinois.
This is the second facility opened west of Chicago by the carrier this year. With the opening of this latest terminal, Saia remains focused on building density in its network and providing customers more direct shipping points to the significant freight markets in northern Illinois.
"Our new Rockford facility will be our 179th terminal, supplementing the recent opening of our new location in La Salle, as well as our four other Illinois terminals," said Jared Mull, Saia Vice President of Operations, East. "Our customers continue to respond favorably to every new facility, which we believe is a testament to the high quality of service and reliability we provide."
Beyond this opening, Saia said it will begin operations at two additional terminals later this month.
Illinois CDL program celebrates 2,000th graduate
Illinois Valley Community College's Truck Driver Training program saw its 2,000th graduate pass their final driving test to receive the commercial driver's license.
IVCC's program was created in 2000 and was led for its first two decades by Bruce Hartman. In the late 2000s, a standalone building was constructed for the program on the college's east campus.
The 160-hour program combines classroom work and hands-on experience leading to a class A commercial driver's license (CDL). Four-week day and six-week evening sections are offered.
Along with behind-the-wheel training, students learn map-reading, backing, shifting, and maneuvering skills – competencies for entry-level employment. The program has a 99 percent job placement rate.
Participants must be at least 18; average student age is about 40.
Expedite Expo kicks off in Fort Wayne, Indiana, in July
On Time Media announced the return of the annual Expedite Expo trade show for expediting trucking pros for 2022. This year's event, slated for July 15-16 in Fort Wayne, Indiana, at the Allen County War Memorial Coliseum, promises to deliver education and networking opportunities to drivers and owner-operators and offers exhibitors the chance present and discuss their services with attendees.
Expedite Expo has been a marketplace for the entire expedited segment of trucking for 22 years, On Time Media noted. It's also served the needs of those looking to break into the segment, given many Expo exhibitors are companies actively recruiting drivers and/or providing services to owners and drivers.
Registration to attend the Expo is free.
Among highlights are Friday and Saturday, July 15 and 16, morning educational workshop sessions, a "State of the Trucking Industry" panel Saturday at 10 a.m. local time with speakers John Elliot of Load One, Women in Trucking's Ellen Voie, and Marilyn Surber of Tenstreet.
ICYMI
Texas fleet shut down for trying to avoid earlier FMCSA penalty
Truckers' views on Midwest's real-time parking information system sought
One tractor-trailer driver slams into a Walmart, another rams boyfriend's mobile home