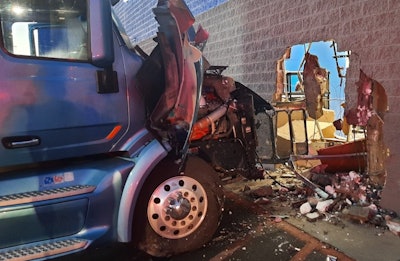 Two truckers have been arrested as the result of separate incidents; one now faces charges for attempted murder and assault.
Police in Piedmont, Alabama arrested trucker Rhonda D. Young Monday, June 30, for allegedly driving her tractor-trailer into the side of a mobile home where her boyfriend and two other people were staying. She was charged with one count of attempted murder and two counts of first degree assault.
TV station WIAT reports police said Young and her boyfriend "had had an argument that led to her crashing the truck into the home."
According to the Piedmont Police Department, the victim was taken to the hospital while the other two people inside the mobile home were not injured.
On Wednesday, June 1, at about 3:20 a.m. a truck driver is said to have deliberately driven his tractor-trailer into the side of a Walmart store in Nogales, Arizona.
Nogales police arrested Christian Andrews, a 25-year-old trucker from New Mexico in connection with the incident, which led to the store being temporarily closed.
Police say the incident was captured on video and shows Andrews getting what they called "a running start" and slamming the front of his truck into the store.
Beef destroyed in Canadian truck crash and fire
A tractor-trailer hauling meat crashed and burned on westbound Highway 401 near Pickering in Ontario, Canada around midnight Wednesday, June 1.
Ontario Provincial Police told the Toronto Sun the tractor-trailer crashed into the center barrier and caught fire. The sides of beef in the trailer were destroyed in the blaze. The driver is said to be uninjured.
Highway 401 was closed for several hours to allow police to investigate and crews to clean up the debris.
ICYMI
FMCSA extends speed limiter comment period by 45 more days
COVID-related emergency hours of service waiver extended again