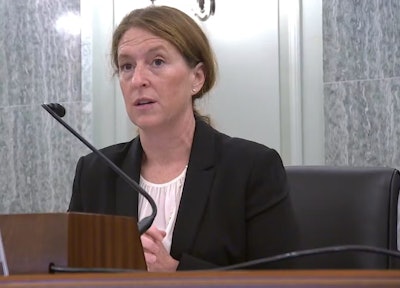 A major commercial vehicle safety organization has added its support to President Biden's choice to run the Federal Motor Carrier Safety Administration.
The Commercial Vehicle Safety Alliance, an organization of trucking safety officials and law enforcement organizations, urged the Senate to approve Robin Hutcheson to be the FMCSA's administrator. She currently serves as the agency's deputy administrator.
In a statement issued Wednesday after Hutcheson testified before a Senate committee, CVSA issued the following statement:
"The Alliance encourages the Senate Committee on Commerce, Science, and Transportation to swiftly advance the nomination," said Commercial Vehicle Safety Alliance (CVSA) Executive Director Collin Mooney. "Under Ms. Hutcheson's leadership, we look forward to continuing our long-standing history of fostering a collaborative and cooperative relationship between CVSA and FMCSA."

Hutcheson currently serves as FMCSA's deputy administrator and has been leading the agency on an interim basis since January. She previously served as deputy assistant secretary for safety policy at the department, where she led the development of the National Roadway Safety Strategy. Previously, Hutcheson was the director of public works for the city of Minneapolis, overseeing a team of 1,100 people across nine divisions. She also served as the transportation director for Salt Lake City, Utah, working to improve all modes of transportation. Hutcheson spent seven years on the board of directors for the National Association of City Transportation Officials, most recently as its president.

"As an organization comprised of commercial motor vehicle safety enforcement agencies throughout North America, CVSA appreciates Ms. Hutcheson's extensive experience developing and implementing highway safety strategies," said Mooney. "In her previous roles, Ms. Hutcheson has demonstrated the strategic approach to improving safety and commitment to stakeholder engagement necessary to guide FMCSA and work collaboratively with the Alliance."

As FMCSA administrator, Hutcheson would lead approximately 1,100 dedicated employees across the country who work diligently every day to improve commercial motor vehicle safety by preventing large truck and bus crashes and saving lives.

"We look forward to working with Ms. Hutcheson and all the dedicated people at FMCSA to continue to improve safety on our nation's roadways and, ultimately, to save lives," Mooney added.
RELATED NEWS: FMCSA nominee Robin Hutcheson faces Senate committee
CVSA is a nonprofit association comprised of local, state, provincial, territorial and federal commercial motor vehicle safety officials and industry representatives. The Alliance's mission is to improve commercial motor vehicle safety and uniformity throughout Canada, Mexico and the U.S. by providing guidance and education to enforcement, industry, and policymakers.
During her appearance before the Senate committee, Hutcheson responded to questions covering:
FMCSA's role in bringing new drivers into the trucking industry
the recently-created Women of Trucking board that will advise FMCSA
the apprenticeship program to train 18-20-year-olds to drive in interstate commerce
driver drug testing
streamlining the CDL process
highway safety issues
The CVSA joins the American Trucking Associations in supporting Hutcheson.