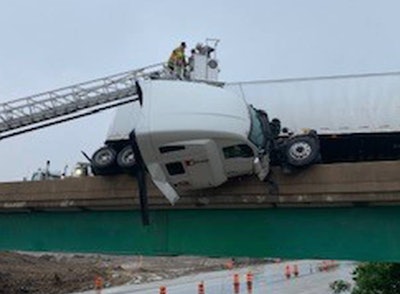 Joliet Fire Department
A truck driver escaped with just minor injuries after he was pulled from his cab as it dangled off an Interstate 80 overpass in Illinois earlier this week.
Illinois State Police say the one-vehicle wreck occurred at about 12:05 p.m. Monday on I-80 near Houbolt Road on the far southwest side of Joliet. ISP said the driver of the tractor-trailer lost control, went through a guardrail and over the concrete wall.
ISP said only the weight of the trailer kept the cab from falling onto the highway patrol.
A crew from the Joliet Fire Department used a tower truck to reach and extricate the driver, who was taken to Ascension Saint Joseph Medical Center in Joliet
ATA wants federal action to reduce the price of diesel
The American Trucking Associations recently called on Washington to take action to lower the price of diesel. The group said when fuel costs rise, so do the costs of everything else. "Inflation can't be controlled without some relief in price of diesel," ATA said.
"Right now, motor carriers are getting slammed by nightmarish surges in the price of diesel," ATA said. "It's especially hard on smaller fleets, which don't operate at a scale to negotiate rates down or lock prices into a contract. These small businesses account for 97% of trucking companies in the U.S., running 20 trucks or fewer."
To help solve the problem of soaring diesel prices, ATA calls on Washington to take the following actions:
Utilize the oil and natural gas found in the Gulf of Mexico by expediting lease sales and permits for offshore energy production
Fast-track onshore oil and natural gas permitting to spur expanded production
Announce realistic leasing and development opportunities for onshore and offshore energy
Expedite permitting for pipelines and other energy infrastructure
Encourage expedited carbon capture and sequestration rulemaking to ensure that America remains a world leader in emissions reduction
CHP holds driver appreciation day at Calexico facility
The California Highway Patrol holds a truck drive appreciation event at the Calexico Commercial Vehicle Enforcement Facility. next week.
The event is from 1 a.m. to 1 p.m. and features lunch for professional drivers.
A message from the facility's commander posted to Facebook said, "As we continue to navigate through these challenging times we hope that all is going well with your endeavors. This facility has been operating at a high level of operational efficiency with the help of our professional drivers we see on a daily basis.
"I would like to thank each and every professional driver for all the hard work focused on delivering goods we all use on a daily basis. Without your dedication, our lives would definitely be impacted negatively. As such, we are hosting a Truck Driver Appreciation Day to show our appreciation for the hard work dedicated to delivering our goods in the most safe and expeditious manner by the professional drivers."
ICYMI
FMCSA nominee Robin Hutcheson faces Senate committee
XPO Logistics' Wilbert Vano is grand champion of NJMTA's driving competition
Marine veteran is Schneider Ride of Pride tribute truck driver
FedEx Freight driver wins Alabama driving competition for second time