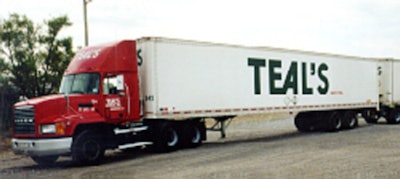 Transportation, warehouse, and logistics service provider PITT OHIO is acquiring Watertown, New Your-based LTL carrier Teal's Express.
The acquisition, set to close Aug. 14, provides PITT OHIO with a mode of direct service expansion into New York state. Teal's Express and PITT OHIO had partnered on LTL service to and from New York since 2016.
In the deal, the financial terms of which were not disclosed, PITT OHIO will acquire Teal's Express equipment, including 66 trucks, and 10 terminals, eight of which are in New York.
"The Teal family sees this as a unique opportunity for their customers and employees, as Pitt Ohio brings tremendous resources to the table," the company wrote in a message posted on its website earlier this week. Teal's Express had been an LTL carrier in the area for 96 years.
PITT OHIO plans to integrate Teal's Express employees, equipment and facilities into its existing operations, and Teal's Express will close its operations. PITT OHIO expects to begin providing direct LTL service to and from New York Aug. 14.
Ross Express, PITT OHIO's sister company, will continue to provide a similar LTL service between New England and New York state.
Deadline for Transition Trucking award nears
July 31 is the nomination deadline for the "Transition Trucking: Driving for Excellence" recognition program.
Presented Kenworth, the U.S. Chamber of Commerce Foundation's Hiring our Heroes Program and FASTPORT, the program recognizes America's top rookie military veteran driving for a commercial fleet after retirement from the U.S. Armed Forces.
The top driver will be determined by a panel of judges. To qualify, drivers must meet three eligibility requirements:
Must have been active military or member of the National Guard or Reserve.
Graduated from PTDI-certified, NAPFTDS or CVTA member driver training school, with a valid CDL.
First hired in a trucking position between Jan. 1, 2021 and July 31, 2022.
Nominations may be made by any for-hire carrier or private fleet employers, training organizations, the general public and other interested parties only by completing the nomination form on the "Transition Trucking: Driving for Excellence" website (www.transitiontrucking.org/nominate).
Kenworth provides the top award for the seventh consecutive year. For the first time, that award is a Kenworth T680 Next Generation. The T680 Next Gen is equipped with a 76-inch sleeper and the PACCAR Powertrain featuring the PACCAR MX-13 engine, PACCAR TX-12 automated transmission, and PACCAR DX-40 tandem rear axles.
ICYMI
Committee sends truck parking legislation to entire House
TravelCenters of America celebrates 50th anniversary with $50,000 in donations