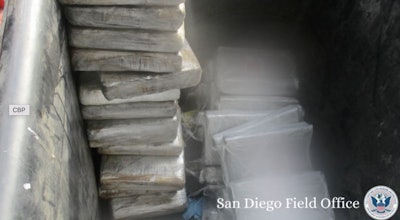 U.S. Customs and Border Protection officers recently found more than $12 million worth of drugs concealed in a shipment of heavy machinery gears.
According to the Customs and Border Protection agency, on Aug. 5, a 37-year-old truck driver arrived at the Otay Mesa commercial facility to enter the U.S. from Mexico. The man was driving a 2009 Freightliner truck with a shipment manifested as heavy machinery gears.
After conducting an initial inspection, officers referred the driver and his truck along with the trailer for further inspection.
A CBP officer screened the conveyance with his human/narcotics detector dog, which alerted to one of the mechanical gears within the shipment. CBP officers conducted an intensive, physical inspection and noticed that one of the gears appeared to have inconsistent work done when compared to the other gears, according to a statement from the customs agency.
CBP officers further inspected the gear, and found 362 packages of cocaine, weighing 870.78 pounds, and 18 packages containing fentanyl, weighing 41.75 pounds.
The total estimated street value of the discovered narcotics amounted to $12.8 million, according to agency officials.
The driver was turned over to U.S. Immigration and Customs Enforcement, Homeland Security Investigations for further processing. CBP officers seized the narcotics along with the truck and trailer.