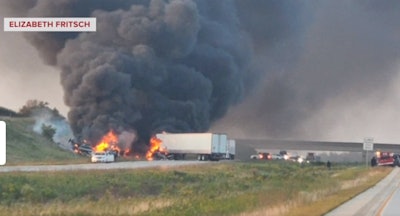 The drivers of two tractor-trailers died in a fiery crash in Wisconsin Thursday, Sept. 8.
The collision and resulting fire shut down the highway between Port Washington exit 100 and Belgium exit 107 in both directions until this early morning.
The crash occurred about 6:30 p.m. near Belgium, which is about 38 miles north of Milwaukee.
WTMJ-TV reports officials say a northbound tractor-trailer left the road, entering the southbound lane and striking another truck.
The identities of the two drivers were not released.