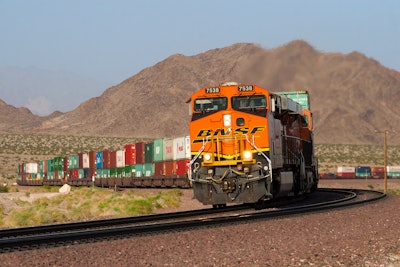 Drew Halverson / Shutterstock.com
With the threat of a strike by railroad employees looming, the trucking industry is asking the federal government to intervene.
The American Trucking Associations is calling on Congress to help resolve ongoing labor negotiations in the freight rail industry should the parties fail to reach a mutual agreement when the current cooling-off period expires Friday, Sept. 16. In a letter sent to Capitol Hill late last week, ATA warned of dire consequences for the U.S. supply chain if a strike were to go into effect.
"Idling all 7,000 long-distance daily freight trains in the U.S. would require more than 460,000 additional long-haul trucks every day, which is not possible based on equipment availability and an existing shortage of 80,000 drivers," said ATA President and CEO Chris Spear in the letter. "As such, any rail service disruption will create havoc in the supply chain and fuel inflationary pressures across the board."
The letter urges Congress to help implement a contract patterned on the recommendations outlined by the Presidential Emergency Board and cautions against merely extending the negotiation timeline further, which would push a potential strike deeper into the holiday season when the supply chain is already under added pressure.
"Merely delaying a possible strike through congressional action will simply exacerbate the concerns of consumers and industry. A possible strike or lockout in October or November is arguably worse than one next week—although any disruption will cost the nation billions of dollars of lost productivity," Spear said.
A copy of the letter is available here.
Management of railroads, including Union Pacific, Berkshire Hathaway's BNSF, CSX, and Norfolk Southern, have until a minute after midnight Friday to reach tentative deals with unions representing about 60,000 workers. A strike could cost the U.S. economy as much as $2 billion a day.
The Biden administration today urged railroads and unions to reach a deal to avoid a shutdown, saying it would pose "an unacceptable outcome" to the U.S. economy.