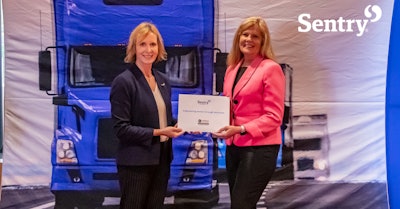 The Sentry Insurance Foundation recently donated $5,000 to the Women in Trucking Foundation.
The donation was presented to Ellen Voie, president, CEO, and founder of the Women in Trucking Association, at the 2022 Sentry Transportation Agency Conference in Stevens Point, Wisconsin. The annual event brings together Sentry agents from across the country to discuss the latest issues impacting the commercial trucking insurance industry. Voie, a native of nearby Amherst, Wisconsin, was a keynote speaker at the conference.
"The trucking industry benefits from a diverse and well-trained workforce that has continuous opportunities for development," said Voie. "We value Sentry's support of our mission to strengthen the legacy of education in trucking."
This donation will support scholarships to help women with financial need grow their skills by providing access to classroom and vocational training. Applications are currently being accepted for the fall 2022 scholarship cycle through Sept. 30.
"We share the Women in Trucking Foundation's passion for creating a more diverse, educated workforce," said Kalynn Pempek, executive director of the Sentry Insurance Foundation. "And we're proud to support WIT's efforts to move the transportation industry forward by providing more opportunities for women to participate and succeed."