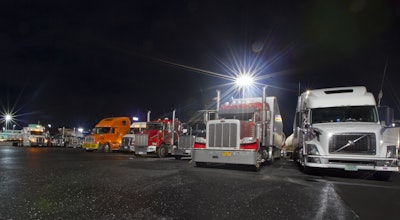 jdwfoto / Shutterstock.com
The Commercial Vehicle Safety Alliance this week announced its annual Human Trafficking Awareness Initiative will increase from three to five days next year.
CVSA's Human Trafficking Awareness Initiative launched in early 2022 as a three-day awareness and outreach effort to educate commercial motor vehicle drivers, motor carriers, law enforcement officers, and the public about the crime of human trafficking, the signs to look for and what to do if you suspect someone is being trafficked. Building on the success of the 2022 three-day campaign, the CVSA Human Trafficking Prevention Program decided to extend the campaign to five days for 2023.
In the U.S., the initiative is scheduled for Jan. 9-13; in Canada, the dates are Feb. 20-24; in Mexico, March 13-17.
In preparation for the 2023 Human Trafficking Awareness Initiative, CVSA is offering human trafficking awareness resources to its membership and working with the Truckers Against Trafficking organization to distribute wallet cards and window decals.
During the five-day awareness initiative in each country, CVSA jurisdictions will note human trafficking awareness and outreach efforts and projects and submit that data to the alliance. The results will be released in the summer of 2023.
The Human Trafficking Awareness Initiative is part of CVSA's Human Trafficking Prevention Program.
ELD exemption renewed for movie production drivers
The Federal Motor Carrier Safety Administration has renewed an exemption from the electronic logging device mandate for all truck drivers providing transportation to or from a theatrical or television motion picture production site.
The exemption requested by the Motion Picture Association (MPA), formerly known as the Motion Picture Association of America, allows these drivers to complete paper records of duty status instead of using an ELD.
The renewed exemption is effective Jan. 19, 2023, and will expire Jan. 19, 2028.
FMCSA first granted the exemption in January 2018 after it "found that MPA outlined the motion picture industry's unique operational issues and clearly explained the special handling of driver RODS that ensures a high level of accuracy to provide the equivalent level of safety."
MPA said approximately 8,300 drivers operate a commercial motor vehicle on a full- or part-time basis for the motion picture industry. According to HOS data, "these drivers spend two hours, on average, driving each day, and drive about 40 miles per day," according to FMCSA's notice granting the renewal. "Their resulting RODs are often very complex, as are the driver HOS records that employing motor carriers must keep."
Because of the nature of their operations, FMCSA said, motion picture industry drivers often use the same paper logs from one carrier to another, so using an ELD would not provide additional accuracy because most duty status information would be manually entered by the drivers.
Transition Trucking public voting ends Friday
Public voting for "Transition Trucking: Driving for Excellence," a program dedicated to finding America's top rookie military veteran driver ends this Friday, Nov. 11. The program recognizes top drivers who have made the successful transition from active duty to driving for a commercial fleet.
Kenworth teamed with FASTPORT and the U.S. Chamber of Commerce Foundation's Hiring our Heroes Program to support this special recognition program. For the seventh straight year, Kenworth is providing the top award. For 2022, Kenworth is awarding the T680 Next Generation. The T680 Next Gen is equipped with a 76-inch sleeper and the PACCAR Powertrain featuring the PACCAR MX-13 engine, PACCAR TX-12 automated transmission, and PACCAR DX-40 tandem rear axles
The public is invited to cast their vote online on the Transition Trucking website (www.transitiontrucking.org/vote). To assist in that process, a short video on each driver is also available on the Transition Trucking website voting page. This voting is an important determiner for the Selection Committee as they make their ultimate choice for the next Transition Trucking award winner
To qualify for "Transition Trucking: Driving for Excellence," drivers had to meet three eligibility requirements:
Must have been active military or member of the National Guard or Reserve

Graduated from PTDI-certified, NAPFTDS or CVTA member driver training school, with a valid CD
First hired in a trucking position between Jan.1, 2021 and July 31, 2022
The winner will be announced on Dec. 16 at the U.S. Chamber of Commerce in Washington, D.C.
ICYMI
TravelCenters of America announces annual Citizen Driver Award winners
Ascend Trucking raises pay for lease and lease-to-purchase operators
Mark your 2023 calendars for CVSA's various enforcement efforts