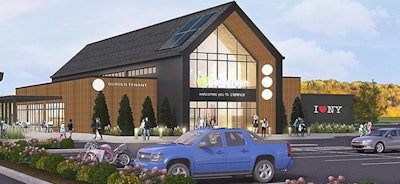 NYS Thruway Authority
The New York State Thruway Authority Wednesday announced upcoming changes that will impact 11 service areas on the Thruway.
Effective Jan. 1, the Ramapo service area (located on Interstate 87 south between exit 16 and exit 15A) and the Warners service area (located on I-90 west between exit 39 and exit 40) will close for construction. However, fuel services will remain available at both locations during construction.
Truck parking will remain available at service areas under construction, according to the Thruway Authority.
Both facilities will be entirely rebuilt and will include updated restaurant concepts, Taste NY food and drink products, outdoor seating, seasonal food trucks, playgrounds and pet walking areas among other amenities, according to the Thruway Authority.
To ensure continuity of services during construction, no two consecutive service areas in the same direction of travel will be closed for renovations at the same time, according to a statement from the Thruway Authority.
The nine remaining McDonald's restaurants located within Thruway service areas will end operations on Jan. 1. These restaurants will be replaced at all locations with temporary dining options including Applegreen C-Stores offering an assortment of hot food items as well as grab-and-go sandwiches and wraps, salads, coffee, snacks, drinks and more. The Applegreen C-Stores will be open to travelers 24 hours a day and seven days a week, and also feature Taste NY products and merchandise.
Select service areas may include Sbarro, Subway or Burger King. Hours of operation may vary by location. Travelers are encouraged to visit the Thruway Authority's website or the Thruway mobile app for updated food options and dining hours.
The changes are part of the project to redevelop the 27 Thruway service areas.
Empire State Thruway Partners was awarded a contract to rebuild 23 of the 27 service area restaurant buildings and provide significant renovations and upgrades to the remaining four. Three new Thruway service areas have already reopened including Indian Castle, Chittenango, and Junius Ponds. Eleven service areas will be closed for construction as of Jan. 1.