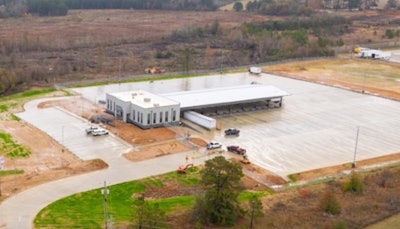 Southeastern Freight Lines
Southeastern Freight Lines, a regional less-than-truckload carrier based in Lexington, South Carolina, today announced the opening of two relocated service centers in Texarkana, Arkansas, and Corpus Christi, Texas.
The new Texarkana service center, located at 4100 East 19th St., consists of 37 dock doors and 25 associates. Its state-of-the-art interior finishes and the addition of over a dozen dock doors allow for future growth and will streamline transit times and cross-dock operations, according to a statement from the company.
Previously located at 3201 East 50th St., the Texarkana Service Center opened for business in 2007 with 18 dock doors.
"Our new facility will empower all associates to continue the execution of best-in-class operations, cultivate financial strength and serve our customers in a greater capacity," said Michael Groover, service center manager. "It's been a pleasure to watch our service center grow over the years, and I look forward to being a part of this next chapter."
The new Corpus Christi service center, located at 5717 Bear Lane, opened Dec. 5 and consists of 50 dock doors.
"Since we first opened our doors, the Corpus Christi associates have always prioritized completing efficient and timely deliveries," said James Carman, service center manager. "We look forward to utilizing the new and improved facility to further this long-standing mission and continue implementing Quality without Question services throughout Texas."
Previously located at 533 Navigation Rd., the Corpus Christi Service Center opened for business in 2003.
Wyoming propane haulers given hours of service relief
Wyoming Gov. Mark Gordon recently signed an executive order that waives the maximum drive time limits for truck drivers hauling propane into and within Wyoming.
The declaration, effective Dec. 15 through Jan. 14, exempts propane haulers from Part 395.3 of the Federal Motor Carrier Safety Regulations.
Gordon said Wyoming is facing low supplies of propane to heat homes and businesses, and propane production and availability at refineries are reduced.
Due to current conditions, Gordon noted that drivers are having to drive farther and wait longer at terminals to secure propane for deliveries.
ICYMI
How was your driving life in 2022? What do you expect in 2023?
102 million travelers expected on highways this holiday season
Trucking steps up to help those in need during holidays and beyond