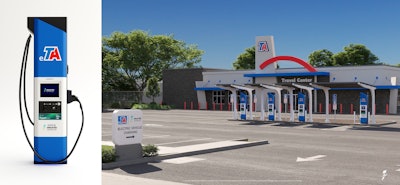 Travel Centers of America
TravelCenters of America Inc. announced today an agreement with Electrify America to offer electric vehicle charging at select TA/Petro locations with the first stations planned to be deployed in 2023.
With a goal of installing about 1,000 individual chargers at 200 locations along major highways over five years, TA will purchase Electrify America's DC (Direct Current) fast chargers. Electrify America will install, operate and maintain the charging stations at TA/Petro locations, through its Electrify Commercial business unit.
According to a statement from the two companies, Electrify America will manage the entire process to design and develop the charging stations – obtaining permitting approvals, providing warranty and 24/7 support services, and conducting onsite maintenance. TA will be included on the Electrify America charging network, allowing customers to access and pay for charging through the Electrify America app.
The network of charging stations will be open to almost all brands of EV vehicles and can deliver up to 350 kW to capable vehicles – some of the fastest charging speeds commercially available.