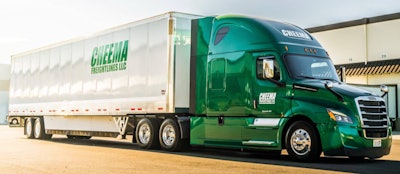 Cheema Freightlines LLC has been recognized as the WHD Northwest 2022 Carrier of the Year by Quaker-Gatorade, a division of Pepsico.
The award was presented at the quarterly business review meetings held in Phoenix.
Both Cheema's trucking and logistics divisions hauled nearly 21,000 loads combined for Quaker-Gatorade in the 2022 fiscal year providing 99% on-time service.
"Cheema was easily the best carrier to work with over this last year. Attention to detail and communication are the things that come to my mind. Whenever we need CFAA or CHAO, they are ready!" said Brooke Harris, regional transportation manager.
"To receive this award four times in the last six years from one of our top customers exemplifies our dedication to service and a huge accomplishment for our drivers. We are humbled and thrilled to share this honor with our team," said Harman Cheema, CEO of Cheema Freightlines. "It has been an absolute privilege to serve Quaker-Gatorade for more than 11 years"
Cheema Freightlines LLC, is a 17-year-old family-owned and operated asset-based and 3PL provider. Its fleet of over 450 trucks and 1,500 dry vans is supported by offices and terminals in Pacific, Washington Albany, Oregon; and Lathrop, California, as well as brokerage offices in Missoula, Montana and Oxnard, California.
Love's partners with Daimler to provide Freightliner service
Daimler Truck North America and Love's Travel Stops today announced an exclusive strategic partnership to provide select services for Freightliner vehicles at approved Love's Truck Care and Speedco locations across the country.
Beginning this spring, authorized Love's locations will provide light mechanical warranty repair work, roadside warranty emergency services and approved field service and recall campaigns for Freightliner trucks. With more than 400 Love's Truck Care and Speedco locations, those approved for providing service offerings, will work directly with their local Freightliner dealer to ensure parts availability, quality repair work, easy warranty claim filing, and to help get Freightliner drivers back on the road quickly.
"Love's is an experienced partner that knows how to fulfill our customers' needs. With this complementary offering to our own service network, we will provide Freightliner customers the increased support and convenience they need to keep the world moving," said Drew Backeberg, senior vice president, aftermarket, DTNA.
More information about this partnership and service offering details will be available this spring, according to a statement from the two companies..
To learn more about Love's Truck Care and Speedco locations, visit www.loves.com/truckcare.
ICYMI
Trucker wounded Sunday morning in shooting on I-70 west of Denver
Driver Poll: Do you plan to leave the industry this year?
3 finalists named for TCA's Highway Angel of the Year Award
Mid-West Truck and Trailer Show in Peoria, Illinois Feb. 3 & 4