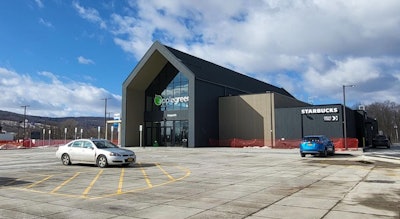 NYS Thruway Authority
The new Iroquois Service Area on Interstate 90 westbound, mile marker 210 in Little Falls, New York is now open.
The facility is nearly 15,000 square feet, making it nearly triple the size of the first three locations to open.
With the opening of the Iroquois Service Area, the Schuyler Service Area (I-90 westbound, milepost 227) is now closed for construction. Fuel services remain available at all service areas during construction.
The New York State Thruway Authority's 27 service areas are being redeveloped as part of a $450 million private investment plan with Empire State Thruway Partners. Construction is underway on 11 service areas and four service areas have reopened: the Indian Castle Service Area, the Chittenango Service Area, the Junius Ponds Service Area, and the Iroquois Service Area.
When the project is completed, 23 of the 27 service area restaurant buildings will be rebuilt, with significant renovations and upgrades to the remaining four. Other amenities will include Taste NY markets, modern restaurant concepts, outdoor seating, food trucks, playgrounds, and pet walking areas.