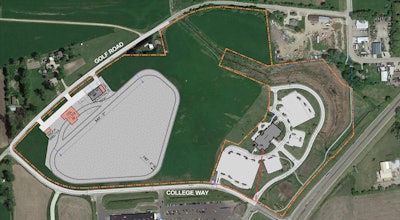 Northeast Community College
A Nebraska community college is expanding its truck driver training facilities.
In response to requests from business and industry representatives and to address the state's goal of increasing workforce opportunities, Northeast Community College earlier this week said it will be increasing its presence at its South Sioux City extended campus by expanding its CDL program's facilities.
On Tuesday, Feb. 14, the college's board of governors gave final approval to a plan to construct an 11,600 sq. ft, truck driving training facility and an adjacent truck driving range. The facilities and driving range will be located just to the west of the main extended campus building at 1001 College Way.
The CDL Training Building will include two classrooms, a simulator room, instructor offices, drive-thru access, and an outdoor shelter for storing and charging. The CDL Training Range will provide adequate space for the instruction of all required maneuvers to obtain a CDL certificate.
Work on the driving range is expected to begin this spring; construction on the building projects is scheduled to begin in Fall 2023 with completion in Summer 2024.
Dr. Leah Barrett, college president, said the expansion of the program will provide increased opportunities for individuals who are looking to expand their skills as they seek employment in a field in high demand in the Siouxland region.
According to the college, all funding for the projects will come from American Rescue Plan Act with other federal grant funds and donations through fundraising efforts.
Ruan testing Hyliion's Hypertruck ERX
Iowa-based Ruan is partnering with Hyliion, a provider of electrified powertrain solutions for Class 8 semi trucks, on a three-week controlled fleet trial of the Hyliion Hypertruck ERX.
The Hypertruck ERX is an electric powertrain that is recharged by an onboard natural gas generator that aims to provide lower operating costs, emissions reductions, and superior performance, according to Hyliion. Utilizing the 700+ commercial natural gas vehicle filling stations across North America, it enables long-range and quick refueling and, when fueled with renewable natural gas, can provide net-negative carbon emissions to commercial fleets.
Over the course of the trial, Ruan will utilize the Hypertruck ERX to haul product on a dedicated route for customer Target Corporation out of Ruan's Midlothian, Texas, operation. The goal of the controlled fleet trial is to gain real-time feedback from drivers and technicians to analyze the Hypertruck ERX's performance in the field, according to a statement on the company's website.
ICYMI
Trucking researchers launch survey on marijuana legalization impact
Kenworth turns 100; introduces two trucks to celebrate its anniversary