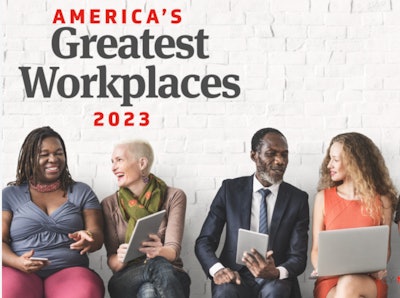 Newsweek
Werner Enterprises was recently named one of America's Greatest Workplaces 2023 for Diversity by Newsweek. After reviewing more than 350,000 companies during the selection process, the inaugural list recognizes the top 1,000 companies in the U.S. making strides in supporting a diverse workforce.
"This recognition from Newsweek is a great honor highlighting our ongoing commitment to creating an inclusive workplace that provides equal opportunities for all," said Werner's Chairman, President and Chief Executive Officer Derek Leathers. "At Werner, we encourage all associates to bring their full selves to work every day and strive to foster an environment where they feel comfortable, empowered and valued."
Werner, headquartered in Omaha, Nebraska, employs more than 14,000 combined driver and non-driver associates.
"We've made significant progress in the last year toward our diversity, equity, and inclusion goals, including a focused effort on elevating women and diverse talent in the management pipeline," said Leathers. "Our inclusion on Newsweek's list validates the dedication we have to our core values and accountability to our workforce."
Developed in collaboration with market data research firm Plant-A Insights, Newsweek developed the results based on publicly available data, interviews with HR professionals, and an online survey for employees focused on corporate culture, working environment, and more. Winners are grouped across six main economic sectors and 34 industries.