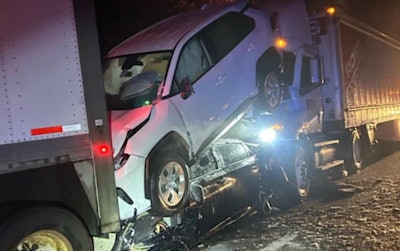 Massachusetts State Police
Icy conditions are being blamed for a 15-vehicle pileup on the Massachusetts Turnpike late Thursday night, Feb. 23.
Several tractor-trailers were involved in the chain-reaction crashes that occurred at about 11:20 p.m. in Brimfield. about 26 miles east of Springfield.
Several motorists injured in the collisions were taken to an area hospital.
All lanes of the turnpike were closed until about 5 a.m. today.
Icy road conditions also appear to have caused a fatal accident Wednesday, Feb. 22 on Highway 7 near Fort Dodge, Iowa.
Iowa State Patrol says a man lost control of his Ford Expedition and collided with a tractor-trailer. The driver of the Expedition died of their injuries.