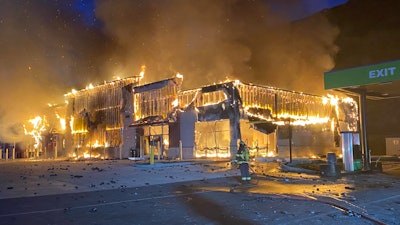 Sherman County Sheriff's Office
The TA Express near Interstate 84 in Biggs Junction in northern Oregon was destroyed by fire Tuesday morning, March 7.
The Sherman County Sheriff's Office said the fire was reported at about 5 a.m. The cause of the fire is as yet undetermined, but the sheriff's office reports witnesses saw dark smoke coming from a dryer.
No injuries were reported.
It's reported the TA Express was built in 2019 and included a Taco Bell, Pizza Hut, Krispy Krunchy Chicken, and an Indian restaurant. It has 40 truck parking spots, a driver's lounge, and CAT Scale.
The Travel Centers of America website suggests drivers use their store at the I-84 Exit 17 in Troutdale, Oregon. It has 240 truck parking spaces.
Biggs Junction is located about 103 miles east of Portland.