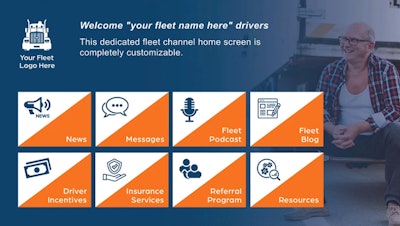 EpicVue
EpicVue, provider of in-cab entertainment and communication systems for the trucking industry, announced recently its new EpicVue+ in-cab entertainment, education and engagement platform. EpicVue+ delivers DIRECTV's live and on-demand premium content, a dedicated fleet channel, and includes an interactive training platform.
"With EpicVue+ our popular EpicVue experience has evolved, eliminating expensive hardware, lengthy contracts and includes far more than just TV," said Lance Platt, CEO of EpicVue. "Our revolutionary new platform, designed specifically for truck fleets, is unlike any other available to the industry because it lets drivers enjoy the comforts of home entertainment while also keeping them connected with their carrier. For trucking businesses, EpicVue+ is an easy-to-install, low-cost solution that promotes job satisfaction and stronger employee connections while enhancing their ability to attract and retain drivers through entertainment, education, and engagement."
Combining live and on-demand premium content with the added capabilities of communications and training, EpicVue+ core components include:
Entertain: EpicVue+ allows drivers to watch TV in their trucks on their own time with more than 100 channels of live programming from DIRECTV's Advanced Entertainment Platform with premium content from networks such as SHOWTIME and Music Choice plus a full library of on-demand content.
Educate: EpicVue+ provides a portal dedicated to training and education to help implement best practices and reinforce compliance. Fleet operators can easily manage content distribution or enable access to online driver training from partners such as CarriersEdge.
Engage: EpicVue+ includes a custom home screen branded for each carrier along with a dedicated fleet channel to distribute company announcements and fleet news, promote incentives to reward drivers for performance, and acknowledge standout employees.
The system and service are available without a term commitment for a monthly rate of $29 per truck.
Werner named to Military Friendly list
Werner Enterprises has been named No. 3 on the Top 10 Military Friendly Company list by Military Friendly, a national organization supporting the U.S. military and its veterans. This award recognizes Werner's hiring, recruitment, training, and development efforts for veterans and their families.
"We are extremely proud to earn our highest ever Military Friendly® rankings in 2023, recognizing our unwavering support for our nation's military veterans and active service members," said Chairman, President and Chief Executive Officer Derek Leathers. "Approximately 20 percent of our workforce at Werner are veterans and we continually elevate our programs to effectively serve those who have served."
Werner was also recognized as No. 1 on the Top 10 Military Friendly Spouse Employer list, No. 3 on the Top 10 Military Friendly Brand list and No. 4 on the Top 10 Military Friendly Employer list in November 2022.
ICYMI
Hear how an online club is helping truckers find safe and secure parking
Driver Poll: Why don't drivers get enough respect?