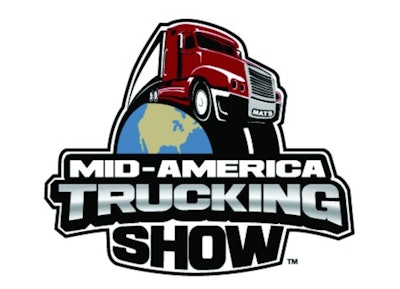 Day three -- the final day -- of the 51st annual Mid-America Trucking Show delivers some healthy advice for truckers at the Kentucky Exposition Center.
The doors open at 9 a.m. Saturday, April 1, and while the show closes at 4 p.m., the show's activities continue starting at 5 p.m.
Here's what to expect at MATS Saturday.
Driver health and wellness focus of educational programs
No two ways about it, the driving life can take its toll on those who have made it their life's work. Two programs at MATS on Saturday are meant to lessen that toll, and make professional drivers healthier and safer.
The day begins when Dr. Ken Barry delivers healthy advice in a program sponsored by CDL Drivers Unlimited and titled "Learn How YOU Can Take Control of Your Obesity, Diabetes, and Depression" in the ProTalks Theater. He'll be joined by pro driver Scott Reed, who lost 138 lbs. in 12 months with the help of Barry's YouTube videos.
Also on Saturday at 9 a.m. Hope Zvara, CEO and founder of Mother Trucker Yoga will explain what she says are four things "every driver can easily implement to improve their health and fitness in five minutes or less that do not include complicated workouts or exercises."
During the program, drivers will learn simple strategies they can instantly apply to:
Improve posture instantly
Reduce pain fast
Increase mobility and flexibility
Fall asleep faster
Zvara will present her program on the ProTalks Stafe in the show's East Hall.
And, the truck show's winners are ...
A highlight of every MATS is when attendees and competitors find out who will take home the trophies from the PKY Truck Beauty Championship. Awards will be handed out for each of the show's numerous categories, including Best of Show.
The awards presentation occurs in the South Wing conference room and begins at 10 a.m.
MAC Trailer Winter Nationals Championship Pulling Event
When the show ends on Saturday, some new entertainment begins.
The MAC Trailer Winter Nationals Championship Pulling Event will be held in the expo center's Freedom Hall beginning at 5 p.m.
The contest's classes include:
Hot rod semis
Mini rods
Pro stock
Unlimited super stock
The pulling event is not just about high-powered entertainment. It's actually for a good cause as all proceeds from the MAC Trailer Winter Nationals at MATS 2023 will go to the Make a Wish Foundation and select trucking charities.
A separate ticket is required for the event and may be purchased online.